100% Pure Expeller Pressed Fractionated Organic Coconut Oil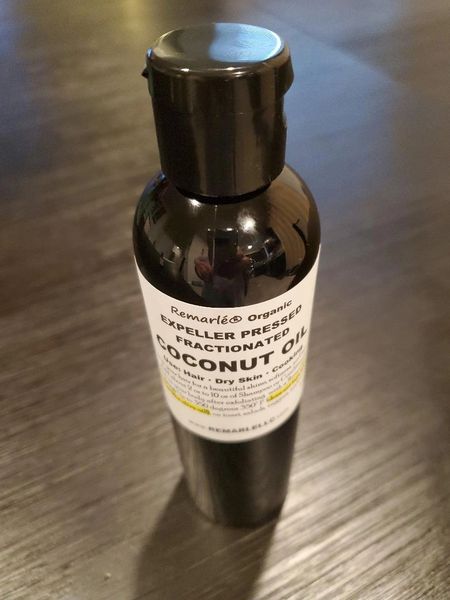 What is it?
Expeller Pressed Fractionated Organic Coconut Oil  - Liquid

4oz or 8 oz Flip Top

Fractionated coconut oil is a fraction of the whole oil, in which the different medium-chain fatty acids are separated for specific uses. Fractionated Coconut Oil is a highly stable, odorless and colorless oil that can be beneficial when you need a really light, penetrating oil or an oil that will not quickly go rancid. It is non-greasy and very light - makes a great non-staining massage oil.
One of the world's most nourishing foods! No trans fat, hydrogenated fat, cholesterol or hexane! Coconut Oil contains lauric acid levels at almost 50% and high levels of capric acid, and caprylic acid, the beneficial medium-chain good fats, it is excellent for your well-being when used daily.
Suggested use: Enjoy by the spoonful, for cooking up to 350° F (does not turn into a trans fat like olive oil!), on toast, salads, veggies, and popcorn. Use on your body after exfoliating with a sugar scrub, use on your hair for a beautiful shine, softness, and manageable. Add 2 oz to ~10oz of shampoo or conditioner for incredibly beautiful hair.

For oil pulling *, swirl in your mouth, sip, suck and pull thru teeth for 15-20 minutes before spitting out. Oil is a soft solid below 76° F, and a liquid above. Refrigeration is not required but store in dark dry location. Our product is organically grown and produced in the Philippines.
History of Coconut Oil
The coconut has been a staple for vast populations all around the globe long before written history. Indigenous peoples, who relied on it for their primary source of food, also knew about the amazing usefulness of its oil. Dubbed the "Tree of Life" by pacific islanders, many believed it to be a cure for all illnesses.
The ancient natives of Hawaii anointed Captain Cook with coconut oil during their Makahiki festival. This ho'okupu (offering to the gods) was a time of spiritual cleansing.
The coconut was harvested two (2) to three (3) thousand years ago in ancient India, making it the oldest traditional crop grown. Featured in many Hindu epic stories (like the Mahabharata) it was also mentioned in the ancient Sanskrit epic, the Ramayana, as being a part of King Ravana's dream.
*What is Oil Pulling and How does it Work?
Oil Pulling or swishing, is an ancient ayurvedic method which involves swishing the coconut oil around the mouth for oral and systemic health benefits.  It has been used for thousands of years as an Indian folk remedy.
It is claimed to whiten your teeth, make your breath fresher and lead to massive improvements in oral and overall health.
In order to oil pull, you put a tablespoon of oil in your mouth, then swish it around for 15-20 minutes.
The main benefit of doing this, is that it reduces the amount of harmful bacteria in the mouth.
There are actually thousands of different types of bacteria in the mouth. Some of them are friendly, others are not.
The bacteria in the mouth create a "biofilm" on the teeth – a thin layer that they use to adhere to the surface. This is what we know as "plaque."
Having some plaque on your teeth is normal, but if it gets out of hand it can cause all sorts of problems, including bad breath, yellow teeth, gum inflammation, gingivitis and cavities.
The way oil pulling works is simple. When you swish the oil around your mouth, the bacteria "get stuck" in it and dissolve in the liquid oil.
Basically, you remove a large amount of the bacteria and plaque in your mouth each time you do this.
The Lauric Acid (one of the fatty acids in coconut oil) is also proven to be antimicrobial… it can kill bacteria, viruses and fungi.
Studies:
1.      Oil Pulling Can Reduce Harmful Bacteria in The Mouth
Streptococcus Mutans is one of the main bacteria in the mouth and a key player in plaque buildup and tooth decay.
In a study from 2008 with 20 boys, oil pulling (using sesame oil) caused a reduction in the number of Streptococcus Mutans in the plaque in as little as 2 weeks (3).
It was not as effective as a Chlorhexidine mouthwash, but much cheaper and MUCH less nasty.
2.      Oil Pulling Can Reduce Plaque and Gingivitis
Gingivitis is caused by inflammation of the gums and happens when the immune system starts attacking the bacteria in the plaque.
Another study compared oil pulling and chlorhexidine in adolescents with plaque-induced gingivitis. Both oil pulling and chlorhexidine mouthwash were effective against gingivitis.
3.      Oil Pulling Can Reduce Bad Breath
Bad breath, otherwise known as halitosis, is in many cases (not all) caused by the smell of chemicals and gases produced by bacteria in the mouth.
It makes sense that if you get rid of some of these bacteria, you reduce bad breath.
In a third study of 20 adolescents, oil pulling therapy significantly reduced all markers for bad breath and was just as effective as chlorhexidine mouthwash (5).
How to Oil Pull
Oil pulling is incredibly simple and effective.
Here's how to do it:
Put about a tablespoon of oil in your mouth.

Swish the oil around your mouth for about 15-20 minutes.

Spit out the oil, then brush your teeth.
What to Expect
Fresher Breath, cleaner teeth, better health.