Acne, Anti-Aging, Allergy Prone Skin ROSE HIP SEED Black Soap Face Wash with Shea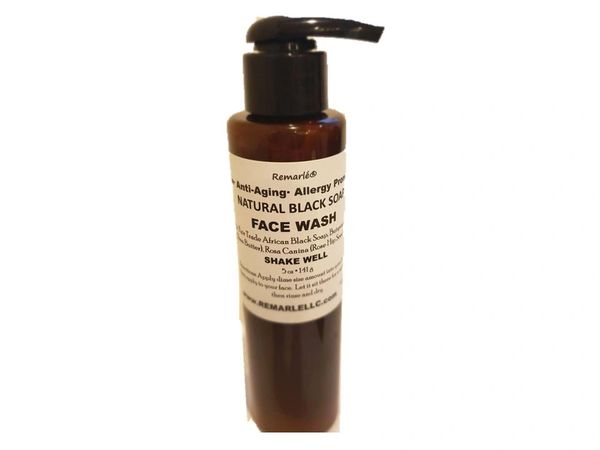 Added ROSE HIP SEED to the name so it does not get confused with the Tea Tree Face Wash.
This face wash is the original.

What is it?

This creamy skin cleansing Face Wash is amazing on Acne, Aging, and Allergy Prone Skin. The face wash contains Rose Hip Seed Oil which aids in skin cell renewal/rejuvenation to replenish a healthy glow and help damaged skin.The main active ingredient that really helps skin clear up existing blemishes is called Retin-A which is derived naturally from the high amount of vitamin A found in the rosehip seed oil extract.


Ingredients: Proprietary Blend of Black Soap, Butyrospermum Parkii (Shea Butter), (Rosa Canina) Rose Hip Seed Oil.

Directions: Place a dime size amount into your hand and massage into the face avoiding the eyes. Leave on for 1-2 minutes, then rinse and feel the magic.

5 oz
Science Behind the Ingredients:
Black Soap:
Genuine Organic African Black soap, Ghana Africa, and is a Fair Trade Federation product.
African Raw Black Soap is one of the most beneficial yet unheard of soaps you will ever find. It is a natural source of vitamins A & E, iron and an all-natural cleanser.
It helps relieve rashes, scalp irritations, oily skin, dry skin, acne prone skin, blemishes, eczema, dermatitis, and psoriasis.  It is not oily, and can be used for hands, face, body and hair.
African Raw Black Soap gives your face a deep cleansing leaving it fresh, and healthier. African Raw Black Soap works well for all skin types from oily to dry. It can be used by any ethnicity and for men or women and used on every age, from newborn babies to the elderly. It has a delicate texture and a natural, earthy smell.

Rose Hip Seed Oil:

Rosehip oil know for it skin renewal properties stimulates the production of new and healthy cells. Its antioxidant and anti-microbial properties can minimize the growth of bacteria so as to avoid different types of breakouts (pimples, whiteheads, blackheads, etc.). When applied to scarred skin, the supporters of this oil claim that it repairs tissues so that the damaged cells are broken down and replaced with new cells.
Shea Butter:
Shea Butter has anti-inflammatory, emollient, and humectant properties which contributes to the healing and comfort of the skin. https://www.ncbi.nlm.nih.gov/pubmed/20484832

Recommended for use with Remarlé® Hair and Face Steamer, Acne Mud Face Mask, and Astringent

Check out this article - Black Soap No Lye http://kaufmann-mercantile.com/african-black-soap/