African Black Soap Natural Body Wash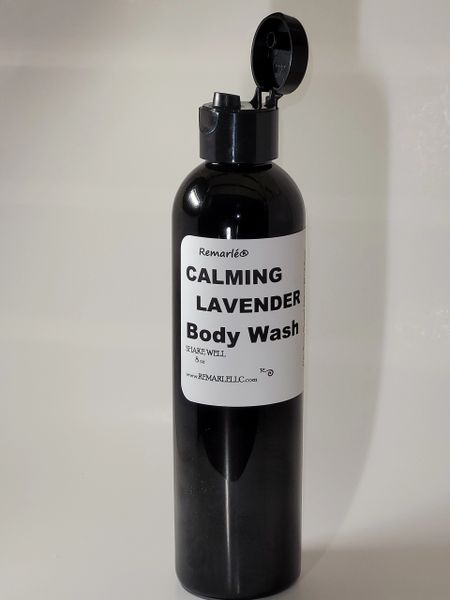 What is it?
This is a natural body wash without any chemicals including Lye that could be harmful to your body. Natural and Moisturizing.

Directions: Apply a small into your hand, on a wash cloth, or sponge rub into wet skin.
Base Ingredients: Natural African Black Soap, Butyrospermum Parkii (Shea Butter), Cocos Nucifera (Coconut Oil), Carthamus tinctorius (Safflower Oil), d-alpha-tocopherol (Vitamin E), Cholecalciferol (Vitamin D3).

Natural essential oils can be added.  Choose from the list

Choose from Tea Tree, Unscented, Lavender, Eucalyptus, Patchouli, Sandalwood
8 oz
Genuine Organic African Black soap, Ghana Africa, and is a Fair Trade Federation product.
African Raw Black Soap is one of the most beneficial yet unheard of soaps you will ever find. It is a natural source of vitamins A & E, iron and an all-natural cleanser.
It helps relieve rashes, scalp irritations, oily skin, dry skin, acne prone skin, blemishes, eczema, dermatitis, and psoriasis.  It is not oily, and can be used for hands, face, body and hair.
African Raw Black Soap gives your face a deep cleansing leaving it fresh, and healthier. African Raw Black Soap works well for all skin types from oily to dry. It can be used by any ethnicity and for men or women and used on every age, from newborn babies to the elderly. It has a delicate texture and a natural, earthy smell. 
Ghana, Africa
The Republic of Ghana, is a country located in West Africa.
The genuine product is made by first burning leaves and barks of a variety of tress and includes banana tree leaves, plantain skins, palm tree leaves and cocoa pods among others in a big vat.
The ash residue is then mixed with water and filtered out. To this mixture, ingredients like coconut, palm and palm kernel oils, shea butter and cocoa butter are added to make the soap.
Main Ingredients:
The soap is traditionally prepared from the ash of locally planted and harvested plants and barks of certain trees. Barks of plantains, Shea trees, palm tree leaves, and coco pods are used in this process. People believe that the organic black soap will be black in color. However, it is not necessary to be in black color and it comes in different colors depending on the region of preparation.
Organic black soap contains the following:
* Water
* Bark of the Shea butter tree
* Leaves of palm tree
* Leaves of banana tree
* Pods of coco plant
* Leaves of plantain plant
* Hemp seed
* Shea nuts
* Olive
* Coconut
* Palm
* Kernel
There are no added preservatives.
How is it prepared?
A typical organic soap is prepared in the following procedure. The bark and leaves of various plants and plantain are shredded and put in to a kettle or a metal container and heated till it becomes ash. Water has to be added in the process and mix it with ash. The resulting mixture is poured through a filter that will not allow the passage of larger particulate matter. This filtered water is mixed in the right proportion with oil or shea butter to create the organic black soap. There are no machines involved in this entire procedure. Women do this work effectively which would take about a day to complete the entire procedure. After this process, the soap should be left untouched for about 2 weeks without any disturbance.