Aloe Vera Sun Burn Soother Spray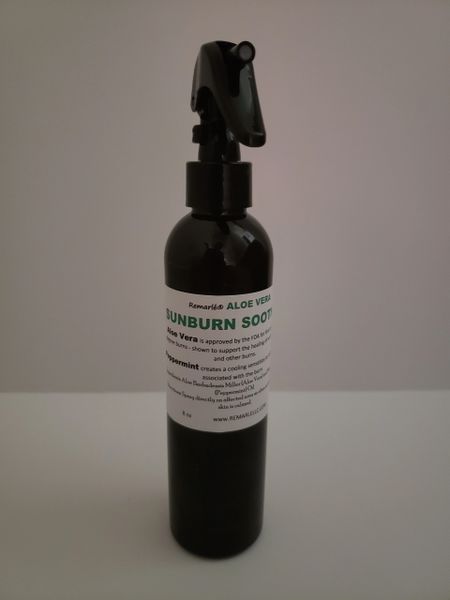 What is it?
This is a spray that will instantly soothe and calm your sunburn.

Aloe Vera is approved by the FDA for first and second-degree burns - shown to support the healing of sunburned skin and other burns. Peppermint creates a cooling sensation to relieve the pain associated with the burn

Aloe Vera is one of the most widely used medicinal plants in the world. Once an ancient plant indigenous to South Africa, aloe vera can now found on almost every continent. Aloe Liquid is derived from the inner gel, sometimes referred to as the inner fillet of the aloe leaf.
8 oz Spray
Ingredients: Aloe Barbadensis Miller (Aloe Vera) and Mentha piperita (Peppermint) Oil

Science Behind the Formula:

Aloe Vera has Anti-inflammatory benefits. Historically, one of the primary uses of Aloe Vera has been to reduce redness and inflammation both internally and externally. In fact, Aloe Vera has long been used on burns and external wounds as an antiseptic to reduce swelling, and eliminate bacteria.

The ingredients responsible for this calming property is Bradykinase, and analesgic anti-inflammatic enzyme, as well as salicylic acid, which is an aspirin-like compound with anti-inflammatory, analgesic, and anti-bacterial properties.
Peppermint
Oil is a natural analgesic, or painkiller. It helps soothe burnt areas by providing a cooling sensation.