Antibacterial Antimicrobial Antiviral HAND CREME Holiday Gift PACKAGE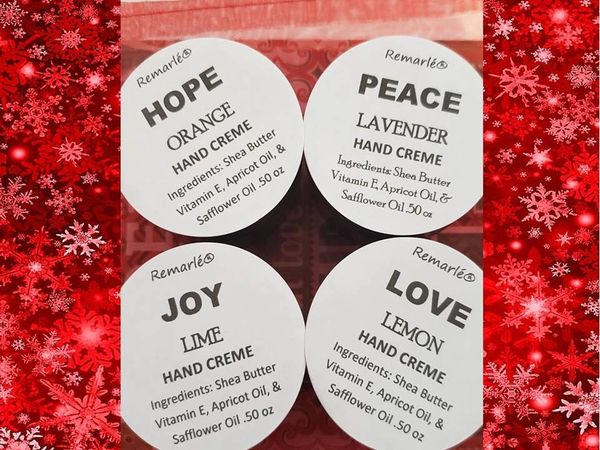 What is it?
This anti-viral, anti-bacterial, anti-microbial, anti-fungal mood lifting moisturizing and fresh smelling hand creme package makes a great holiday gift. Don't forget to get one for yourself!
Joy (Lime) -

Citrus aurantifolia (Lime) essential oil is an astringent, anti-viral, anti-septic, anti-bacterial and a disinfectant.

Peace (Lavender)-

Lavandula angustifolia (Lavender) essential

oil is has anti-bacterial and anti-fungal activities but also has the ability to calm the nervous system and improve sleep.
Love (Lemon) -
Citrus limon (Lemon) essential oil fights exhaustion, helps with depression, clears your skin, kills harmful viruses and bacteria, and reduces inflammation. According to a study published in the International Journal of Food Microbiology, lemon oil may actually be the most powerful anti-microbial agent of all the essential oils.

Hope (Orange) - Citrus sinensis (Orange) essential oil is anti-microbial and can lift your mood and reduce stress.
Hand Creme Base - Ingredients: Proprietary blend of Butyrospermum Parkii (Shea Butter), Apricot Oil (Prunus armeniaca), Carthamus tinctorius (Safflower Oil), and d-alpha-tocopherol (Vitamin E), plus 100% pure essential oil.
( each container is .50 oz qty 4 total 2 oz total weight)