ANTIBACTERIAL & ANTIMICROBIAL HAND SANITIZER and Surface Cleaner Eucalyptus Lemon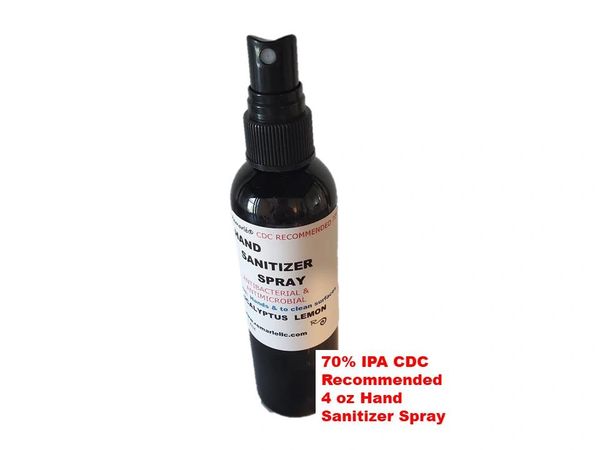 What is it?
In terms of actually protecting yourself from the Coronavirus, when hands are not visibly dirty, the United States Centers for Disease Control and Prevention and many other world public health authorities recommend 70% Isopropyl Alcohol (IPA) hand sanitizers as an acceptable alternative to soap and water for hand hygiene. Alcohol based sanitizers kill most bacteria, and fungi, and stop some viruses.  Remarle Hand Sanitizer contains 73% Isopropyl Alcohol (IPA) plus PURIFIED WATER as well as ANTI-MICROBIAL and ANTI-BACTERIAL ESSENTIAL OILS.
HOW TO USE:

The CDC Clean Hands campaign instructs the public how to use alcohol based hand sanitizer properly:   
·         Apply product to the palm of one hand.
·         Rub the product over all surfaces of hands and fingers until hands are dry.
·         Rub hands together.
Despite common perceptions, alcohol-based hand sanitizers are well-adapted to the skin. Also, use of alcohol-based hand sanitizers dries skin less, leaving more moisture in the epidermis, than hand washing with antiseptic/antimicrobial soap and water.
CAN ALSO BE USED TO CLEAN SURFACES

SIZES: CHOOSE FROM 8oz, 4oz, or 2oz  SPRAY          
 
Ingredients: Isopropyl Alcohol, Purified Distilled Water ,Glycerol (Kosher USP Vegetable Glycerin), Eucalyptus globulus (Eucalyptus) & Citrus limon (Lemon) Essential Oils.
Science Behind the Ingredients:
Alcohol based sanitizers kill most bacteria, and fungi, and stop some viruses. Alcohol based sanitizers containing at least 70% Isopropyl Alcohol (IPA) (Remarle contains 73% IPA by volume) kill 99.9% of the bacteria on hands 30 seconds after application and 99.99% to 99.999% in one minute according to a controlled study. The active ingredients in CDC-recommended alcohol-based hand sanitizers is 70% IPA. The IPA inactivates viruses that are genetically related to, and with similar physical properties as, the 2019-nCoV.  https://www.cdc.gov/coronavirus/2019-ncov/hcp/hand-hygiene.html
Isopropyl Alcohol (IPA) with purified water is rapidly antimicrobial against bacteria, fungi, and viruses. The presence of water with IPA is a crucial factor in destroying or inhibiting the growth of pathogenic microorganisms. Water acts as a catalyst and plays a key role in denaturing the proteins of vegetative cell membranes. This solution penetrates the cell wall more completely which permeates the entire cell, coagulates all proteins, and therefore the microorganism dies. Extra water content slows evaporation, therefore increasing contact time and enhancing effectiveness.
Eucalyptus and  Lemon:
According to a study published in the International Journal of Food Microbiology, lemon oil may actually be the most powerful anti-microbial agent of all the essential oils.
 
A study completed by the NIH showed that essential oil of the leaves of E. globulus OR EUCALYPTUS has antimicrobial activity against gram negative bacteria (E. coli) as well as gram positive bacteria (S. aureus).  https://www.ncbi.nlm.nih.gov/pmc/articles/PMC3609378/
Glycerin is a skin-replenishing and skin-restoring ingredient. It helps to establish normal balance and hydration.