100% Argan Oil Certified Organic Easy Eye and Lip Roller - Dark Circles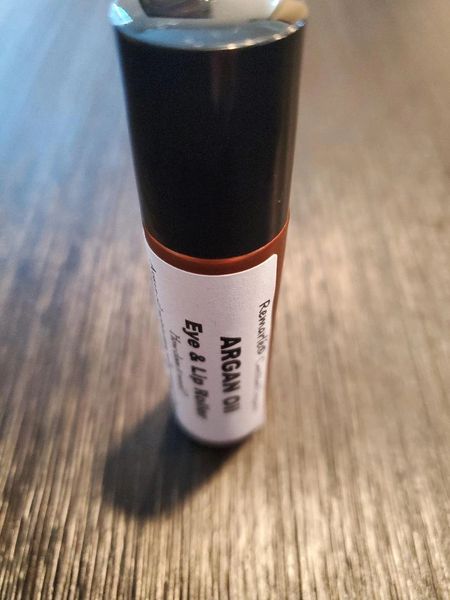 What is it?
Amazing Argan Oil (Argania spinosa) in an easy roller to help moisturize your lips and eyes as well as relieve dark eye circles and puffiness when refrigerated.
Argan oil has high levels of vitamin E and essential fatty acid's Oleic and Linoleic (Omega -6) which make it extremely hydrating to the skin. The omega fatty acids in Argan oil help to strengthen tissues in skin and therefore can aid in wrinkle prevention. A 2014 study found that women who applied argan oil to their skin and consumed it improved their skin's ability to retain water (a key to reducing signs of aging). Researchers further determined that it wasn't just skin-deep, but actual deep cell-level change.  In addition, the richness of Vitamin E in the argan oil also serves as a potent antioxidant to reduce the damaging effects of free radicals and help to prevent wrinkles.
Dark circles result when blood collects beneath your eyes, whether because of age, genetics, allergies or a lack of sleep. Massaging them can relieve the swelling and get the blood flowing and diminish under eye circles therefore lessening discoloration.  

Recommend to place into the refrigerator for best results to minimize puffiness.

Ingredients: 100% Argan (Argania spinosa) Oil Organic Certified 
Size: 10ml  Roller Ball

Great for Travel and to leave in your purse when you need a little moisture for your lips or eyes.
Argan oil is a Plant oil produced from the kernels of the argan tree (Argania spinosa L.) that is endemic to Morocco.
Pure & Certified Organic
Argania spinosa
The Gold of Morocco
Multi-Purpose Oil
Condition: For dry hair, scalp, skin and/or cuticles in need of natural and intensive moisture renewal.
Solution: Organic Argan Oil from Morocco is beneficial for all skin types due to its rich fatty acid content. Organic Argan Oil is a multi-functional product. It adds shine to your hair and provides moisture for your skin, hair, scalp and nail cuticles. It also helps to soothe damaged and irritated skin.
Because it's easily-absorbed, Organic Argan Oil helps to maintain a healthy skin pH balance as well.
Suggested Usage: For dry skin, apply a liberal amount where needed most. For hair, rub a few drops between hands and run through hair to add shine and reduce fly-aways.

Ingredients: Organic Argan Oil (Moroccan) (pure, from tree nuts of Argan Tree).
Expeller Pressed & Hexane Free
Caution: Do not ingest this product. Keep away from sensitive areas. Keep out of reach of children.
Certified Organic by Quality Assurance International.