Arthritis and Pain Creme with Arnica -Leg Cramps, Body Pain, Neck Pain, Back Pain, Knee Pain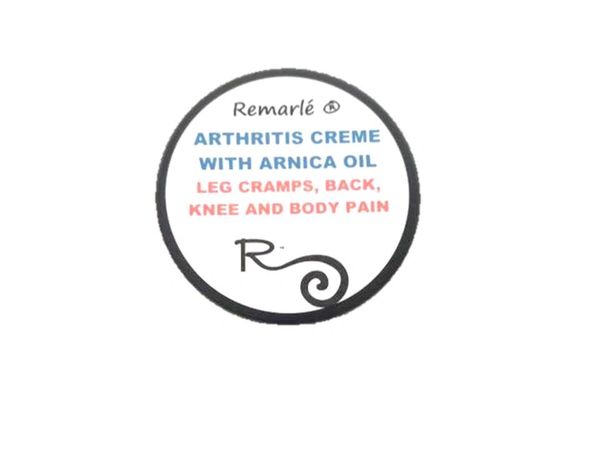 What is it?
The flower of arnica is used to make products that help relieve pain and swelling associated with bruises, aches, sprains, and arthritis. Many professional athletes today even use a topical homeopathic preparation of arnica oil as first aid relief for sports- or exercise-related pain or injury.
There have been two studies completed by the NIH that support this claim.  One research study conducted in 2010 resulted in a greater improvement with the use of arnica oil on bruised skin. In another research study completed in 2007, Arnica was demonstrated to reduce muscle soreness among marathon runners.  http://www.ncbi.nlm.nih.gov/pubmed/20412090
In making this formula I tried to keep the ingredients as simple as possible as to not interfere with medication you may be taking.  Please check with your physician before using.
Use: Leg Cramps, Body Pain, Neck Pain, Back Pain, Knee Pain, Pre and Post workouts.
Use during pre and post workouts allows more flexibility and less pain for those times you push it too far.

available in 4oz or 8 oz jars

Ingredients: Butyrospermum Parkii (Shea Butter) , Heterotheca indloides (Arnica Flowers),  Prunus armeniaca (Apricot Oil) , Carthamus tinctorius L (Safflower Oil), Helianthus (Sunflower Oil), Peppermint Essential Oil, Non GMO Vitamin E.

Directions: If you experience aches, pains, strains, bumps, or bruises, apply right away and as often as necessary for relief.
A few comments about arnica:
Lynn B.       5 stars Verified Buyer   this works!

Definitely can tell a difference when I use on my arthritic knees. Also gradually helps fresh bruises.
Great for bruises!
by Katie
I had never heard of Arnica until I moved to Mexico a few years ago. My Mexican mother-in-law always has a salve made of Arnica in the medicine cabinet. Any time one of her sons would fall, bump or bang themselves she would run over with the Arnica and rub it on the spot. Most of the time the bruise would not even form. Now that I have a three year old son who is constantly climbing trees, running and falling etc I have proved many times over the power of Arnica. I just rub a little Arnica on the skin and it prevents the bruise! It is absolutely amazing! My sons preschool even has it in their first aid kit so that when a child falls they can rub it on them! Every mother should have arnica! A must have in the medicine cabinet!
Arnica: WONDERFUL for diabetic foot problems
by Miriam C
My dear neighbor has had horrible foot problems for years due to her diabetes. This included swelling, and infection. When her husband went to the hospital after a heart attack i tried to cheer her up by giving her a "spa day". I soaked her feet in Arnica infusion and the next day her feet looked so much better!! I was originally nervous to use it on her feet because some skin looked broken but it was not very bad, so I gave it a shot and it turned out fantastic! Arnica is used to move pooled blood and it made the swelling go down. I believe a mixture of the hot Arnica infusion and the pooled up blood finally moving is what killed the infection.