BE HAPPY! Summer Citrus SMILE Spray™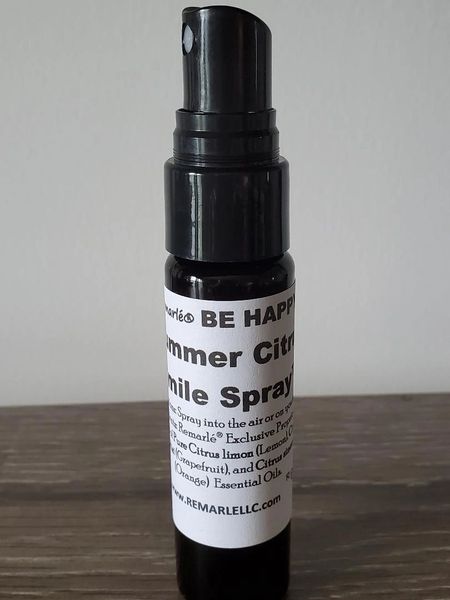 What is it?

The Remarlé® Exclusive Summer Citrus™ Blend of Orange, Grapefruit, and Lemon Essential Oils are designed to Boost Mood, Ease Anxiety & Irritability, and Elevate Energy.  Refreshing and clean - smells like summer and sunshine.

Size: 1 oz or 4 oz

Use: Spray into the air, use to diffuse, clean surfaces.

Ingredients:
Remarlé® Exclusive
Proprietary Blend of
Pure Citrus limon
(Lemon),
Citrus paradisi
(Grapefruit), and
Citrus sinensis
(Orange) Essential Oils.
Science Behind the formula:
Lemon Improves Mood. Spraying lemon essential oil in the air can lift mood and fight depression. Naturally antibacterial and antiviral, lemon is commonly used to degrease stubborn stains as well as freshen the air.
Grapefruit The smell of grapefruit is uplifting, energizing, soothing and clarifying. The anti-viral and anti-bacterial properties of fresh grapefruit juice can help clean your home in a way that is safe for kids and pets and won't trigger respiratory problems like commercial cleaners can.
Orange  A Japanese study showed that smelling orange for 10 minutes helped to boost participants' moods for up to 30 minutes. It is also great against grease.