Sugar and Shea Ultra Moisturizing Body Polish and Hand Scrub - Choose your Essential Oil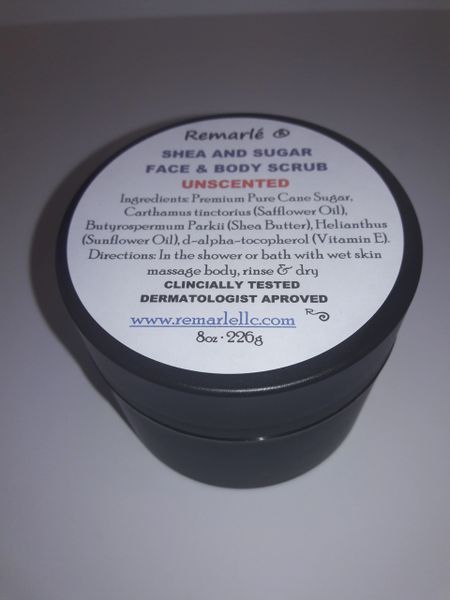 What is it?

This body and hand scrub hydrates and smooths the skins surface for a radiant look and natural glow. Its natural ingredients were designed to exfoliate and moisturize at the same time for a smooth as silk feel.

Ingredients: Premium Pure Cane Sugar, Carthamus tinctorius (Safflower Oil), Butyrospermum Parkii (Shea Butter), Helianthus (Sunflower Oil), d-alpha-tocopherol (Vitamin E).
Choose from Unscented or 100% Pure Essential oil blends: Pure Silk (Unscented), Summer Citrus (Lemon, Orange, Grapefruit), Calm (Lavender), Peace and Harmony (Jasmine-Vanilla),  Joy (Lemon), Memory Mood and Immune Health (Rosemary-Lemon), and Cold Relief (Eucalyptus-Lemon), Deep Muscle Pain (Eucalyptus Peppermint). Summer Fun (Lemongrass Lavender), Happiness (Orange).

Great to use for added silkiness after shaving!!

Directions:Wet skin first, scoop out at least a quarter size amount and massage into skin in a circular motion, then rinse off completely. Depending on the area in which you are using the scrub, you may need to use more.

Not necessarily required, however applying the Remarle Body Butter (thick formula)  or Body Lotion (thin formula) immediately after you scrub will provide for for the ultimate skin softening experience so that the epidermis can absorb the emollient (butter or lotion) deeper into the skin leaving it softer for longer.

8 oz jar
Science Behind the Formula


Safflower Oil contains
78%
linoleic acid which has the ability to stimulate and regenerate new skin cells,
boosting the quality and appearance of your skin.
Vitamin E is an antioxidant that protects and repairs your skin.
Sugar is a natural humectant, meaning it draws moisture from the environment into the skin. So when you apply products with sugar or sugar derivatives, they'll actually help hydrate your skin and keep moisture within.
Additionally, sugar is a natural source of glycolic acid, an alpha hydroxy acid (AHA) that penetrates the skin and breaks down the "glue" that bonds skin cells, encouraging cell turnover and generating fresher, younger-looking skin. Glycolic acid is typically used to treat sun-damaged and aging skin.

Finally, sugar's small particles make an excellent topical exfoliant, and are used in a number of body and face scrubs to exfoliate dead surface skin cells and reveal the glowing, healthy-looking skin underneath. Sugar scrubs also have a few benefits over salt scrubs. For one, small sugar granules are generally gentler than salt, which can cause microscopic tears in the skin; two, because of sugar's natural humectants properties, these scrubs are more hydrating than salt scrubs, which can strip skin of natural oils.
What should you exfloiate?

Plain and simple exfoliation is an important process in maintaining clean and healthy skin; it removes dead skin cells on the surface of your skin (the epidermis) keeping your skin cleaner, smoother and brighter.

Why do I need to moisturize my skin?

The skin needs moisture to repair and renew itself. While the skin produces it own oil through the sebaceous glands, sometimes extra moisture is needed. As we get older our skin does not produce enough oil and becomes very dry, add in menopause and all of a sudden the wrinkles, lines and visible signs are aging are prevalent. The Skin needs to be hydrated either internally or topically to be soft, supple and smooth.