Body Lotion Rich and decadent yet light weight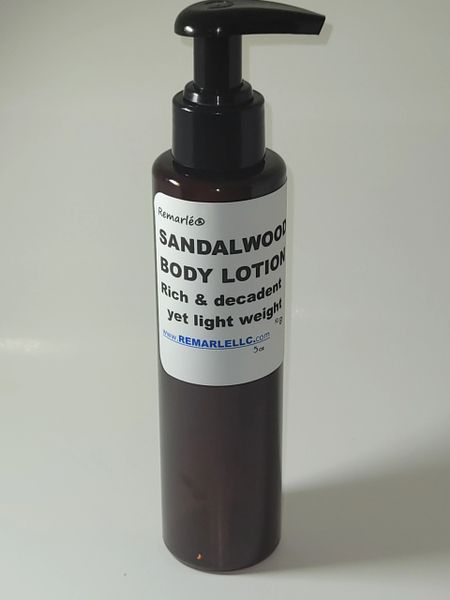 What is it?
Rich and decadent yet light weight this body lotion is formulated with vitamin E, shea butter, cocoa butter, vitamin D3 and aloe vera. It is rich in Omega-6 essential fatty acids, Vitamins A, C, E, & K which nourishes and moisturizes skin leaving the skin healthy and silky smooth.
 Paraben, sulfate, phosphate, gluten, cruelty-free, and 100% vegan.
Ingredients: Butyrospermum Parkii (Shea) Butter, Theobroma Cacao (Cocoa) Seed Butter, Aloe Barbadensis Leaf Juice (Aloe Vera), Purified Distilled Water (Aqua), Prunus armeniaca (Apricot Oil) Kernel Oil, Non GMO d-alpha-tocopherol (Vitamin E), Cholecalciferol (Vitamin D3), Glycerol (Kosher USP Vegetable Glycerin), Plus 100% Pure Essential Oil
5 oz Pump

Choose from:
Unscented


Lemon Lavender

Lavender


Lavender Peppermint

Eucalyptus

Jasmine Vanilla

Orange Burst

Stress Relief - Eucalyptus Peppermint


Summer Citrus - Orange Grapefruit Lemon

Summer Fun - Lavender Lemongrass

Sandalwood

Directions: Pump and massage a small amount directly onto your body or into your hands; add more if needed.
Science Behind the Ingredients:
Hooray for Shea!
Shea butter is extracted from the nut of the shea tree (Vitellaria paradoxa) in West Africa. High levels of natural anti-oxidants (A and E) and essential fatty acids (from stearic acid and oleic acid) found within the nut's buttery contents have proven extremely effective for moisturizing and repairing damaged skin. Shea Butter works because it is able to penetrate the epidermis and provide a protective layer which traps water and keep the skin hydrated and protected from allergens.
Shea butter's healing qualities include:
Relieving Dry skin caused by Eczema, Psoriasis, and Dandruff
Reducing the appearance of stretch marks, scars and fine lines
Shea Butter also has Antimicrobial (used against bacteria and antifungals) and Anti-inflammatory properties
Aloe Vera is rich in vitamins C, E and beta carotene (a pre-cursor to vitamin A).
Its anti-inflammatory and antimicrobial properties are enhanced when massaged into the skin because its antibacterial, antiseptic and anti-inflammatory properties will protect the skin from bacteria and other pathogens which lead to infection and inflammation. In addition, Aloe Vera contains substances known as glycoproteins and polysaccharides. Glycoproteins speed the healing process by stopping pain and inflammation while polysaccharides stimulate skin growth and repair.
Vitamin E when used as a moisturizer prevents dry, flaking skin and fights inflammation.
Vitamin D3, (cholecalciferol) the active form of vitamin D.
Vitamin D is indispensable to the health, beauty, and longevity of the largest organ in the body: your skin. If adequate amounts of Vitamin D are not available, your epidermal cells won't  form a watertight barrier that locks in moisture and keeps your skin soft and supple. As a result, the outer layer of your skin may become thinner and more fragile. It begins to sag from lack of adequate support. Dryness and wrinkles set in as moisture is gradually lost to the outside.
Cocoa butter, also called cacao butter, is the cream-colored fat extracted from cacao seeds (cocoa beans). Cocoa butter is a great moisturizer/emollient, because of its high fatty acids, meaning it can penetrate deep-down into the skin and hydrate from within. It is one of the most stable, highly concentrated natural fats known. When applied topically, it creates a barrier between the top layer of the skin and the dermis where the body is more able to retain the moisture. It melts at body temperature and is quickly and easily absorbed into the skin.
Apricot Oil
Apricot oil is rich Oleic Acids, Linoleic Acids, Alpha-Linolenic Acid, Palmitic Acid, Stearic Acid, Vitamin A, and Vitamin E all essential nutrients to maintain the softness, suppleness, and radiance of skin your skin.
Glycerin is a skin-replenishing and skin-restoring ingredient. It helps to establish normal balance and hydration.