Chemical Free Nail Strengthener and Cuticle Oil with Vitamins B7 (biotin), D3, B5 (Pantothenic acid)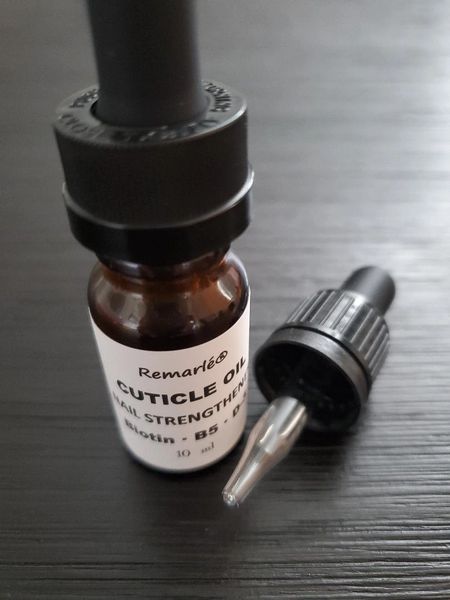 This formula was created and tested to help strengthen nails and soften cuticles. Helps eliminate ridges.
Ingredients: Apricot Oil (Prunus armeniaca), Carthamus tinctorius (Safflower Oil),
d-alpha-tocopherol (Vitamin E),
Cholecalciferol (Vitamin D3), Pantothenic acid (Vitamin B5), Biotin (Vitamin B7).
Directions: Apply a drop on each nail bed and cuticle, massage in.  Repeat three times a day or more if needed until you start to see a change. At the very least apply at least once in the morning and once at night after nails.
For maintenance after nails become strong again apply once in the morning and once at night.
Add a few drops to your favorite hand creme to enhance the product.
Sizes:  10 ml dropper .34oz or 59ml Dropper 2 oz
Recommendation for severely dry cracked hands, cuticles, and nails: Use the Remarle Severely Dry Sugar Scrub first, rinse off and apply a few drops of the Remarle cuticle oil to each nail bed and hands, finish off with the Remarle Healing and Immune Boosting Hand Creme.
Science Behind the Formula:

Apricot Oil
Apricot Oil is rich in is rich in omega – 9 ( oleic acid ) fatty acid, omega – 6 ( linoleic acid ), and Vitamin E which is why the oil is a powerful emollient. The oil's fine texture allows more rapid skin penetration, which promotes more prompt healing and nourishment of sore or chapped skin without residue. Shirley Price, coauthor of "Aromatherapy for Health Professionals," notes that apricot oil is also beneficial in relieving the itch and irritation of eczema-ridden skin as well as helps prevent and minimize the appearance of wrinkles.
Vitamin B7 Biotin:

In a small controlled study among women with brittle nail, showed supplementing with

Biotin (vitamin B7)

may increased nail thickness by 25% and reduced the tendency of nails to split (Columbo, J Am Acad Dermatol 1990).


Vitamin D3:
According to Toronto-based family medicine practitioner Dr. Sheila Wijayasinghe, nutritional deficiencies are one of the four main causes of nail problems like peeling or cracking.
Vitamin D3
itself appear to play a role in maintaining nail integrity, the nutrient is necessary for proper calcium absorption and to regulate the concentration of the mineral in your blood. Calcium is also required for nail health; peeling nails may indicate that low vitamin D is affecting your calcium level.
Vitamin D3 is a beneficial vitamin and antioxidant that is widely known as a key element in supporting a healthy immune system and preventing bone related diseases like osteoporosis and rickets. It is effective in targeting and improving skin care problems such as itching, flaking, and redness associated with psoriasis
Vitamin B5
Pantothenic acid :The Hydrator

Vitamin B5 is a humectant--a water-binding substance that attracts and retains water, protecting the skin from the elements such as washing hands frequently.

As a humectant, B5 stabilizes the skin barrier function, reducing the amount of water lost through the skin. By applying a B5 formulation to the skin, you will not only increase its hydration but improve its softness and elasticity, making it ideal for the treatment of dry, scaly or rough skin.
Vitamin E

Vitamin E is an antioxidant that protects and repairs your skin.