Combo Package LOCAL CBD Elderberry HONEY & CBD Good Night Sleep Tea with Elderberry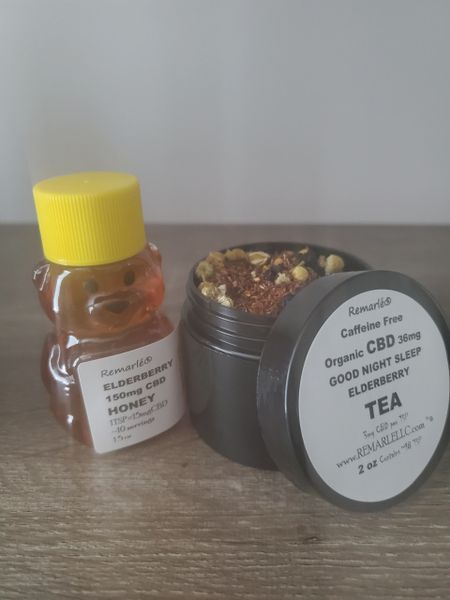 What is it?
This Honey and Tea Combination is the perfect way to relax and get a good nights sleep.

Our full spectrum CBD oil contains high concentrations of CBD and also other beneficial cannabinoids such as CBC, CBG, CBDA, and CBDV.
CBD helps restore homeostasis (balance) through its effects on our Endocannabinoid System (ECS). 
What am I buying?
1.5 oz 150 mg CBD Combined with LOCAL HONEY ( 1 TSP = ~15MG CBD) ~9 servings and
2oz 36 MG CBD GOOD NIGHT SLEEP TEA (1 TSP =3MG CBD) ~12 servings

Honey Ingredients: Organic Cannabidiol (CBD), LOCAL WILDFLOWER & CLOVER Honey,  & Organic Elderberries
Tea Ingredients: Organic Chamomile, Organic Rooibos, Organic Cannabidiol (CBD), Organic Ginger Root,  Organic Turmeric Root, Organic Sweet Fennel Seed, Organic Elderflower, Organic Lemon Peel, Organic Lemon Myrtle, Organic Licorice Root, Manuka Honey, Organic Lemon Verbana Leaf, Elderberries. 


Use:  Tea: Steep 1 tsp in 6 oz hot water for 3-5 minutes, then add 1 tsp of Honey

This ORGANIC Full Spectrum CBD Oil comes from NuLeaf Naturals in Colorado USA.