Deep Conditioning Hair Mask with Marula Oil - Use Dry Hair and Scalp Psoriasis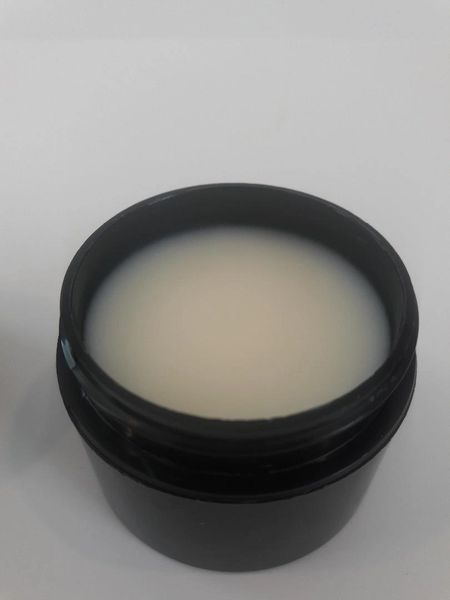 What is it?
This hair mask formula contains Coconut Oil known to moisturize hair, combined with Shea Butter and the magic of Marula Oil to enhance the health of your hair.

NO SULFATES, FRAGRANCES, CHEMICALS, ADDITIVES OR ANYTHING ELSE THAT WOULD HARM YOUR HAIR.

Use: Dry Brittle Frizzy Hair, Eczema and Scalp Psoriasis.

Here is a testimonial with someone who has psoriasis on their scalp:
"My scalp was itch free since using the hair mask just once and my hair was amazing! My fly aways had diminished and I hadn't dug on my scalp since I used the hair mask. I haven't been itch free in almost 3 years when it comes to my scalp." SA
Ingredients: Proprietary blend of Butyrospermum Parkii (Shea Butter), Cocos Nucifera (Coconut Oil), & Marula Oil.
Available in Peppermint and Unscented   8 oz containers
The refreshing and revitalizing scent of Peppermint Essential Oil when that option is chosen.

Directions before Shampooing: You can apply this product one of three ways prior to shampooing. It is all a matter of preference. However since length and thickness of hair are different for everyone, start off with a quarter size amount and add more as needed.
Three ways:
1. Heat 1 oz  or more depending on the length of your hair in microwave for 15 seconds in a microwave safe dish, then Massage  into your scalp and hair ends, comb it through,
leave in for 15 minutes
, then wash your hair.
2. Heat and Massage about 1 oz or more into your scalp and ends, comb through
leave in overnight
 , then shampoo in the morning.
3. In the shower after you have wet your hair, massage a small amount into scalp and ends, comb through if possible, then wash.
Directions after Shampooing: Take a dime size amount to start and massage into your ends. Comb or brush through. Be careful not to use to much or it will leave your hair greasy. For really tangled hair, place a small amount on your comb or brush before trying to de-tangle.
_______________________________________________________________________________________________
What is Marula Oil?
Fair Trade Marula Oil – Certified Organic (Sclerocarya birrea)
WILD GROWN, ORGANIC MARULA OIL, AFRICA'S BEAUTY SECRET
Marula Oil is an all-natural, cold pressed, highly nutritious, light textured oil. Hand harvested by women in village collectives from the exotic fruit seed kernels of bio dynamic and drought resistant Marula trees, indigenous to Southern Africa and Madagascar. The geographic position on the west edge of Southern Africa gives rise to certain climatic characteristics. The low rainfall and endless hours of bright sunshine create the perfect environment – unlike any other in the world – to produce exceptional growing conditions for the Marula trees to bear their annual fruit.
The oil is made from kernels from inside the pit of the Marula fruit which is related to the mango. The process of cracking the Marula pit to separate the kernel is so laborious that it takes one woman half a day to produce the kernels for one 2 oz bottle of oil. The kernels are then cold pressed using a hand-turned 30 ton hydraulic press.
The Marula Oil is produced to rigorous quality standards completely pure and natural with no artificial ingredients and harvested sustainably. No chemicals are used in the process and no animal testing is involved.
This delicious fruit contains 4 times as much Vitamin C as an orange. Marula leaves and bark have wonderful properties but the skin care properties of natural Marula Oil are perhaps the best of all. This healing oil is widely used for its medicinal benefits by Southern
African women and men and has been part of numerous beauty rituals for centuries to protect the skin and hair from the harsh and dry weather conditions.
This oil is edible, water soluble, High in Vitamin C, Rich in Oleic Acid (essential to healthy skin), golden in color. It is used to moisturize, heal, prevent scarring, promote healing from burns, and penetrate and preserve skin and hair.
________________________________________________________________________________