Shea Butter Bug Repellent Creme Eucalyptus Citriodora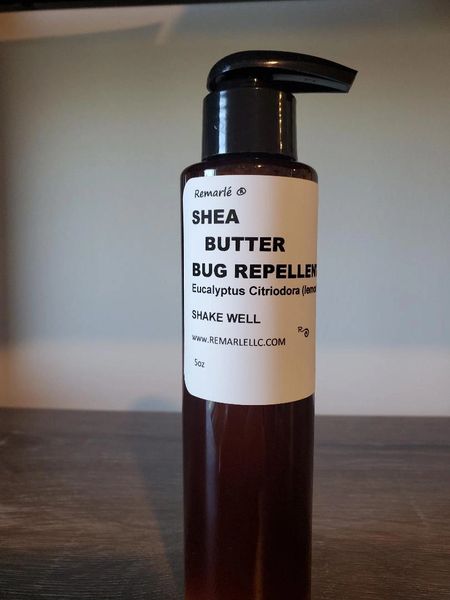 What is it?
This Moisturizing Shea Butter Bug Repellent has a natural SPF of 6, is safe for kids, and protects against mosquitoes, no see ums, flies and other pesky bugs. The Shea Butter forms a barrier that bugs cannot penetrate while the infused scent of Eucalyptus Citriodora (Eucalyptus Lemon) essentials oil protect you from getting bitten.

Ingredients: Proprietary blend of Butyrospermum Parkii (Shea Butter), Carthamus tinctorius (Safflower Oil), d-alpha-tocopherol (non GMO Vitamin E), and Essential Oil  Eucalyptus Lemon
(
Eucalyptus citriodora
)
Directions: Apply 30 minutes before going outside to allow the ingredients to fully bind to the skin. Reapplication of is just as important as putting it on in the first place, so reapply the same amount every 2 hours; more often if you are sweating excessively or after you get done swimming.

Recommended for use with Remarle ® Liquid Bug Repellent.
5 oz pump
Chemical Free, Paraben Free, Preservative Free, Additive Free

Proprietary Formula by Remarle ® LLC
Science Behind the Formula:
Lemon - Eucalyptus  - The CDC confirmed that lemon eucalyptus oil can be as effective as DEET in repelling mosquitoes. In two recent scientific publications, when oil of lemon eucalyptus was tested against mosquitoes found in the US it provided protection similar to repellents with low concentrations of DEET.https://www.cdc.gov/westnile/prevention/index.html


Shea Butter is not only moisturizing, but it also creates a barrier and prevents bugs from biting.