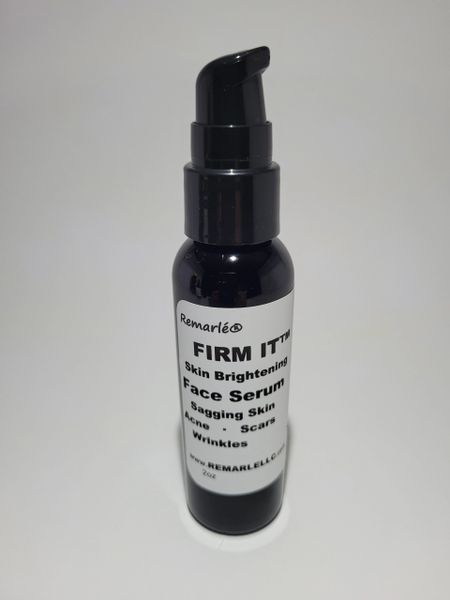 What is it?
The FIRM IT™ 100% Natural Skin Brightening Face Serum and Body Oil for Sagging Skin, Cellulite, Scars, Acne, Dry Skin, and Wrinkles is all natural and safe for all skin types

Here are some testimonials sent to me by email:
Hi! I met you in ocean city in august 2017. My mom and I each bought a Steamer and Firm It . Can I just tell you... this has been LIFE CHANGING. As a woman who has suffered from acne for a long time, I've tried everything. Since using this steamer, my skin has never looked so good. Everybody is noticing!

So I have to tell you. The face serum is amazing. I have never used any thing better for acne. I could feel a pimple coming in on my noise. In a very normal spot where they return endlessly. Its painful because it's near the crease. I used the serum and within an hour the pain was gone and the pimple never reared its ugly head. It really is amazing stuff. … BtW, totally change the name to face serum. It does so much more than firm the name takes away from it's TRUE abilities. It helps acne, dry skin and eczema, close enlarged pores,  evens out skin tone, reduces baggy eyes.
This incredible array of hand pressed natural flowers will help with sagging skin, cellulite, scars, and wrinkles within days.
Read the Science behind the formula below.

Available in an Oil 1 oz, 2 oz,  or 5 oz pump

Ingredients: Proprietary Blend of Ricinus communis (Castor Oil), Hibiscus rosa-sinensis (Hibiscus), Helichrysum italicum (Helichrysum),  Sclerocarya birrea (Marula Oil) ,Boswellia (Frankincense), Prunus armeniaca (Apricot Oil), Carthamus tinctorius (Safflower Oil), and Helianthus (Sunflower Oil).
Contains Vitamins A, C, & E, Omega 6 and Omega 9 fatty acids know to improve the health of your skin.

Directions: Use everyday and night

Castor Oil
Greek travelers like Herodotus recorded that the Egyptians also used it as an ointment. Cleopatra reportedly used it for brightening the whites of her eyes. Angelina Jolie and Britney Spears are just two famous fans of this restorative oil!
It has a low-molecular weight, which means that it is absorbed fast by your skin. It then stimulates the production of collagen and other tissues. This means it can reduce the appearance of fine lines and wrinkles.
Hibiscus
1) The 'Botox Plant'
One of the most powerful anti-ageing plant actives; it's no wonder Hibiscus is called the 'Botox plant'. Hibiscus has a magical reputation for increasing skin elasticity to give a stunning natural youth-boost. With the incredible ability to inhibit the activity of the enzyme elastase, which is responsible for breaking down our skin's precious elastin, Hibiscus actively combats the ageing process by firming and lifting your skin.
2) Evens skin tone
One of the visible signs of skin ageing is the appearance of hyperpigmentation or age spots. Age spots can occur due to a number of different variables, including ultraviolet radiation exposure, excess melanin production and genetics. Due to the slightly exfoliating effect of the organic acids found in the plant, including citric acid and malic acid, Hibiscus helps to speed up cell turnover, resulting in a more even looking skin tone.
3) Rich in antioxidants
Hibiscus is rich in antioxidants, called anthocyanocides. Antioxidants are proven to help fight skin damaging free radicals which spawn when pollutants such as ultraviolet radiation and traffic pollution make contact with the skin, and can result in premature skin ageing. Not only do anthocyanocides protect against free radical damage, they also have slightly astringent properties, helping to reduce the appearance of large pores for a smoother complexion. They also have an anti-inflammatory effect and can help to soothe inflamed skin, making Hibiscus suitable for those prone to very sensitive skin.
4) Purify your complexion
As mentioned previously, Hibiscus contains gentle acids that have a slight exfoliating effect on the skin. Not only does this help with age spots, this Hibiscus benefit can encourage an all round fresher, younger, smoother looking complexion. The natural acids present in Hibiscus help to purify your skin by breaking down dead skin and increasing cell turnover, they can even help to control acne breakouts. Unlike harsh synthetic forms of these acids which can strip your skin of its natural oils, the organic acids from Hibiscus bring your skin back in balance for a naturally gorgeous, glowing complexion.
5) Intense moisture boost
Lastly, Hibiscus has a naturally high mucilage content, a sticky substance produced by plants that help with the storage of water and food. Mucilage makes a fantastic natural skin moisturiser that is gentle on sensitive skin. This high mucilage content of Hibiscus enhances the skin's ability to retain moisture, which is a key factor in retaining a youthful complexion. The naturally moisture rich qualities of Hibiscus helps skin stay hydrated, soft and supple for longer, keeping dry, dull skin at bay.
Helichrysum
Cicatrisant: This property of Helichrysum Essential Oil makes your wounds and cuts heal quickly and scar marks disappear fast. It is equally effective on clearing up spots left on your skin by pox, boils, and other skin irregularities.
Antimicrobial: Helichrysum Oil inhibits microbial growth and protects the body against a long list of microbial infections.
Antiseptic: This oil does not allow your wounds to become septic. It can be safely applied on wounds, cuts, pricks, and any other open sores that could become infected.
Emollient: This property of Helichrysum Oil makes the skin smooth, soft and helps it retain moisture. It prevents dehydration and cracking of the skin.
Frankincense
Astringent: This astringent quality also reduces the appearance of wrinkles, and combats the loss of firmness of intestines, abdominal muscles, and limbs associated with age. Above all, frankincense acts as a coagulant, helping to stop bleeding from wounds and cuts.
Cicatrisant: When applied topically it can makes the scars and after marks of boils, acne and pox on the skin fade at a much faster rate.
Anti-Aging: As a Cytophylactic, Frankincense Oil promotes regeneration of healthy cells and also keeps the existing cells and tissues healthy. When you combine this aspect of frankincense oil with its powerful astringent capabilities, you have a potent anti-aging quality that frankincense oil is often used for. It can help you to eliminate sun spots, remove micro-wrinkles around the eyes and cheeks, and generally tone and tighten skin all over your body, while simultaneously replacing old or dying cells with new, healthy ones!
Marula Oil
Marula Oil is has 4 times the amount of Vitamin C as an orange.  Great for the fight against the free radicals that cause pre-mature skin aging. Thanks to an amazingly high content of antioxidants and fatty acids like Omega 6 & 9, Pure Marula Oil is a superior anti-aging moisturizer.