Flexy™ Pre and Post Workout Pain and Flexibility Creme also Leg Cramps, Body Pain, Neck Pain, Back Pain, Knee Pain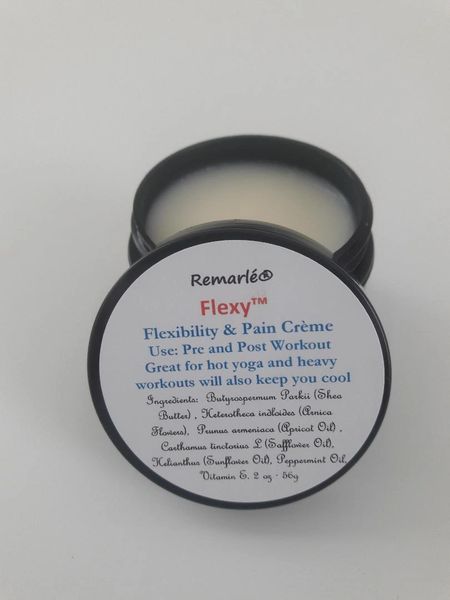 What  is it?
A natural remedy to use for Pre and Post Workouts to keep your muscles and body more flexible and pain free, Leg Cramps, Body Pain, Neck Pain, Back Pain, Knee Pain, Arthritis.
Will also keep you cool and flexible during yoga, hot yoga, biking, running, walking, lifting, sports, or any type of strenuous exercise.
The flower of arnica is used to make products that help relieve pain and swelling associated with bruises, aches, sprains, and arthritis. Many professional athletes today even use a topical homeopathic preparation of arnica oil as first aid relief for sports- or exercise-related pain or injury.
There have been two studies completed by the NIH that support this claim.  One research study conducted in 2010 resulted in a greater improvement with the use of arnica oil on bruised skin. In another research study completed in 2007, Arnica was demonstrated to reduce muscle soreness among marathon runners.  http://www.ncbi.nlm.nih.gov/pubmed/20412090
In making this formula I tried to keep the ingredients as simple as possible as to not interfere with medication you may be taking.  Please check with your physician before using.
available in 2 oz,  4oz, or 8 oz jars

Ingredients: Butyrospermum Parkii (Shea Butter) , Heterotheca indloides (Arnica Flowers),  Prunus armeniaca (Apricot Oil) , Carthamus tinctorius L (Safflower Oil), Helianthus (Sunflower Oil), Peppermint Oil, Vitamin E..

Directions: If you experience aches, pains, strains, bumps, or bruises, apply right away and as often as necessary for relief.
Lynn B.       5 stars Verified Buyer   this works!