SMOOTH and SHINE™ Frizz Eliminator, Hair Refresher, & De-Tangler Spray with Vitamins B5, B7, D3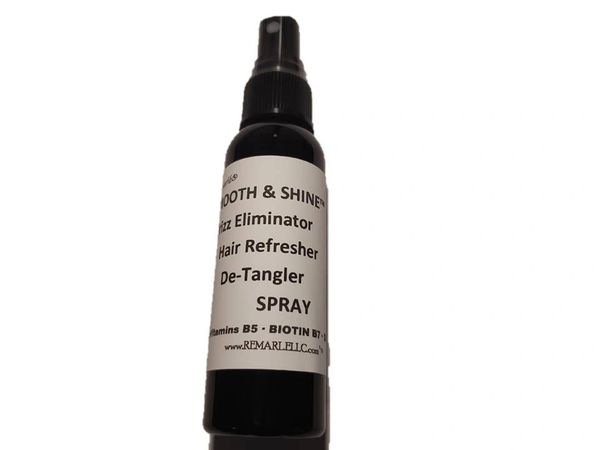 What is it?
It De-Tangler's Hair in minutes, Refreshes with out washing, and Eliminates Frizz.


By now you have heard not to wash your hair everyday.  But if you are like me, you hesitate not to wash because your hair is frizzy, unruly, and does not smell as fresh as you would like.  But here is your solution.  Untangle, Refresh, and Eliminate Frizz with this all natural spray; just a few spritzes will allow. you to style it anyway you like, then comb or brush through from roots to the ends. You will be have a smooth frizz free shine that will last all day. Great to use before the beach or pool. The sun will augment the vitamins and oils into your hair, giving you a moisturizing treatment at the same time!!

Ingredients:  Distilled Water, Argan Oil (Argania spinosa L.),
Aloe Barbadensis Miller
(
Aloe Vera),Pantothenic Acid (Vitamin B5), Biotin (B7), Cholecalciferol (Vitamin D3), and Lemon Essential Oil made from Lemon Peel. 
Choose from 4 oz or 8 oz Spray Bottle

The Benefits and Science behind the Ingredients:
Argan Oil:
    Argan oil is a great product to calm frizzy ends, add moisture to dry hair as well as add a little shine.
Vitamin D3:
    Emerging research links vitamin D and hair follicle health, but exactly how that works isn't clear
Vitamin B5 (pantothenic acid):
Is an essential vitamin for hair growth and health; it has the ability to deeply moisturize and penetrate the skin and hair as well as an excellent bonding quality that helps strengthen the hair.  When you have more "structure" to the hair by adding ingredients like this vitamin B5, you add more resilience and strength because there is strength in the layers it builds to protect.
Biotin (Vitamin B7):
   Renews the follicles and roots of the hairs that are already growing. It results in thicker, fuller & much healthier hair.
Aloe Vera: Aloe Vera is a great conditioning agent when applied to the hair. The gel-like substance of the Aloe barbadensis leaf gives it a similar chemical composition of keratin, the naturally occurring protein in hair cells allowing for easier penetration along the entire length of the hair shaft.
We can credit these penetration properties to the lignins found in Aloe Vera, the major structural material of the cellulose content. It has been proven that the skin can absorb the benefits of Aloe Vera up to 7 layers deep.
Since our scalps are more absorbent than our skin, can you imagine the conditioning benefits available to the scalp? The combination of Aloe Vera's 20 amino acids (which are the building blocks of hair and scalp) also adds both strength and luster to the hair.