Hair Elixir Leave in or Wash Out - All Hair Types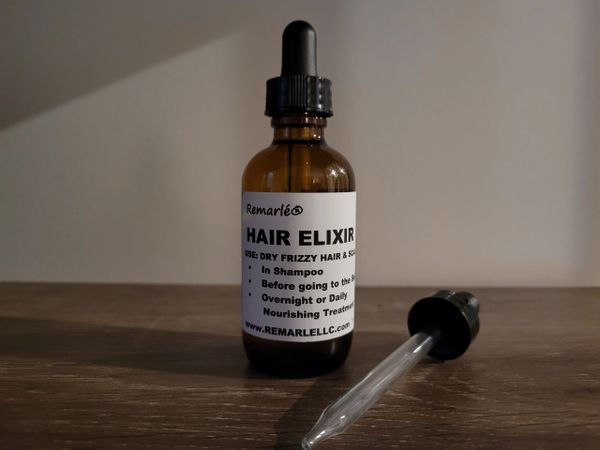 What is it?
This incredible moisturizing hair elixir can be left in all day to keep hair moisturized frizz free and shinny or used as a moisturizing treatment overnight. You can also make your shampoo work better buy pouring 1 oz of the hair elixir into the container of any 8 ounces of shampoo.

Ingredients: Aloe Barbadensis Miller (Aloe Vera),  Persea americana (Avacado Oil), Argania spinosa L. (Argan Oil), Medium Chain Tylglercides (Fractionated Coconut Oil), and Pantothenic acid (Vitamin B5).

Use: Drop some of the oil into your palm, then apply to the ends of your hair.  If you have a dry scalp, drop some directly onto the scalp and massage in - use just a little -  leave in overnight and washing out the next day. This can be left in all day and is  great for going to the beach - the hot sun will give you a hot oil treatment.

Another option and my personal favorite: Pump some onto a "Wet" Brush not to much and then comb thru wet hair. Make sure you get the ends!

2oz Dropper
Science Behind the Ingredients:
Aloe Vera: Aloe vera contains 75 potentially active vitamins, enzymes, minerals, sugars, lignin, saponins, salicylic acids, and amino acids all contributing to cell turnover which promotes healthy cell growth and results in stronger shiner hair. It may also help eliminate dandruff.
Avocado Oil: Can also be used to improve the condition of your hair by acting as a moisturizer for dry or damaged hair. Avocados are high in vitamins B and E, which work at the cellular level to protect and strengthen hair.
Argan Oil: High in antioxidants, essential fatty acids, and vitamin E, Argan Oil is a great product to hydrate and soften hair, minimize frizz, add a lustrous shine, and can even soothe a dry, itchy scalp.
Fractionated Coconut Oil is rich in antioxidants, and has antiviral, antifungal, and antibacterial properties. When used on hair, it improves scalp health, fights infections and fungus, supports hair growth, all while adding volume and shine without the common harmful chemicals.
Vitamin B5 (pantothenic acid) has the ability to deeply moisturize and penetrate the skin and hair as well as an excellent bonding quality that helps strengthen the hair.  When you have more "structure" to the hair by adding ingredients like this vitamin B5, you add more resilience and strength because there is strength in the layers it builds to protect.