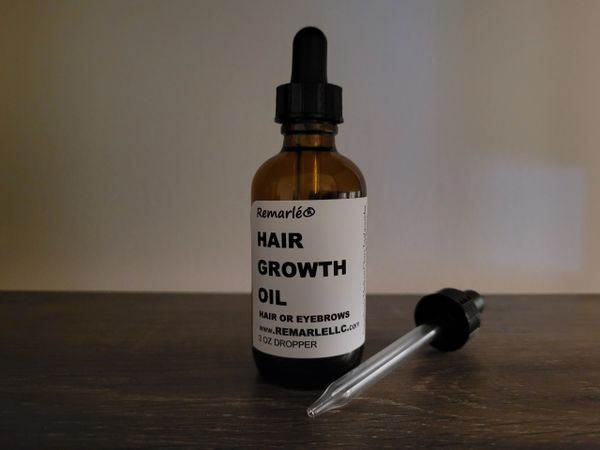 What is it?

A nourishing hair oil that will help aid in the growth of hair and eyebrows.
Use: Massage about 1 tablespoon or more into your scalp depending on size of your head.  For eyebrows you can dip an eyebrow brush into the oil and comb across the area that needs growth. Be careful of getting it into your eyes. Leave on overnight.  Wash off in the morning.
You can also add about 1 oz to any shampoo.

Recommended use with Chelated Zinc vitamins. Please use only a USP verified vitamin to ensure quality such as Solgar brand.

Ingredients: Medium Chain Triglycerides (Fractionated Coconut )Oil, Persea americana (Avacado) Oil, Aloe Barbadensis Miller (Aloe Vera), Ricinus Communis (Castor) Seed Oil, Biotin (Vitamin B7), Cholecalciferol (Vitamin D3), and Mentha piperita (Peppermint) Oil.
2oz Dropper

Science Behind the Formula:
Biotin (B7):
A Harvard study established biotin as one of the essential nutrients for preserving hair strength, texture and appearance.
While there is no study of the effects of biotin on alopecia, the facts that its deficiency causes hair loss and that its supplementation improves hair health are enough evidence to support the use of this vitamin as a hair loss remedy.
Fractionated Coconut Oil is rich in antioxidants, and has antiviral, antifungal, and antibacterial properties. When used on hair, it improves scalp health, fights infections and fungus, supports hair growth, all while adding volume and shine without the common harmful chemicals.
Avocado Oil: One benefit of avocado is preventing hair loss and promoting hair growth. They can also be used to improve the condition of your hair by acting as a moisturizer for dry or damaged hair. Avocados were first used for this purpose by early Egyptians.
Vitamin deficiency can cause hair loss or hair to grow slowly. Avocados are high in vitamins B and E, which work at the cellular level to protect and strengthen hair. Vitamin B is essential for hair growth. Vitamin E helps repair damage on the scalp, which may slow or prevent hair growing. Healthy hair grows half an inch every month. Using avocado in a conditioner or as a hair mask are the best ways to promote regular hair grow.
Peppermint Oil:

In a study completed by the NIH Peppermint Oil was shown to remarkably promoted hair growth.
http://www.ncbi.nlm.nih.gov/pmc/articles/PMC4289931/

Castor Oil:
Castor oil not oily moisturizes and softens hair, maintaining the moisture level in the hair but also aids in blood circulation enhancing the health of the hair follicles and, in turn, promotes hair growth.
Vitamin D:
Emerging research links Vitamin D and hair follicle health, but exactly how that works isn't clear
Aloe Vera:

Aloe vera contains proteolytic enzymes which repairs dead skin cells on the scalp. It also acts as a great conditioner and leaves your hair all smooth and shiny. It promotes hair growth, prevents itching on the scalp, reduces dandruff and conditions your hair