Voluminous™ Volume, Shine, and Softness Hair Mist Spray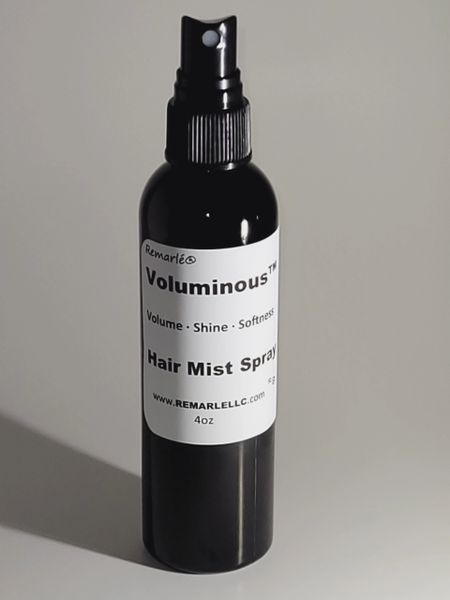 What is it?
Looking for shine, luster, and full body hair. Look no more. This amazing combination of natural oils will add volume, shine, and softness to your hair that will last all day. Loaded with Vitamins A, D, and E as well as Omega 3, 6, and 9 essential for a healthy hair and scalp.

Use: Spray on when hair is wet or dry getting as close to the roots of the hair as possible.  When hair is wet, let dry naturally or blow dry.
Ingredients: Distilled water, Adansonia digitata (Baobab Oil), Aloe Barbadensis Miller (Aloe Vera), Medium Chain Triglycerides (Fractionated Coconut Oil).
4oz or 8oz Spray Bottle

Science behind the formula:

Baobab oil is touted for its effectiveness as a non-greasy emollient for hair, for its ability to add shine, and for its ability to penetrate the hair strands, where it can add elasticity and suppleness. Baobab oil helps to eliminate dandruff and reduce environmental damage to the hair due to its abundance of  Vitamins A, D, and E as well as Omega 3, 6, and 9 essential for a healthy hair and scalp.
Baobab oil is obtained from the seeds of Adansonia tree. This tree is one of the most characteristic trees of Africa, and it is often called the upside down tree because it looks as though it is growing roots upwards.
Aloe Vera - The gel-like substance of the aloe barbadensis leaf gives it a similar chemical composition of keratin, the naturally occurring protein in hair cells. This structural similarity allows for easier penetration along the entire length of the hair shaft.
We can credit these penetration properties to the lignins found in Aloe Vera, the major structural material of the cellulose content. It has been proven that the skin can absorb the benefits of Aloe Vera up to 7 layers deep.
Since our scalps are more absorbent than our skin, can you imagine the conditioning benefits available to the scalp? The combination of Aloe Vera's 20 amino acids (which are the building blocks of hair and scalp) also adds both strength and luster to the hair.
Fractionated Coconut Oil - Coconut oil is rich in antioxidants, and has antiviral, antifungal, and antibacterial properties. When used on hair, it improves scalp health, fights infections and fungus, supports hair growth, all while adding volume and shine without the common harmful chemicals.