Hard Black Soap - Choose your Scent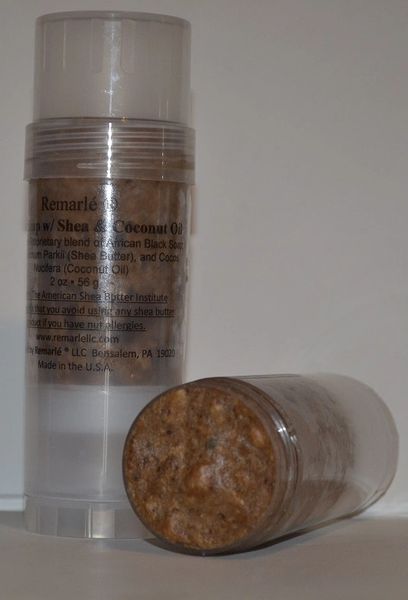 What is it?
This soap is amazing for Acne and was designed for Teens and is a favorite among young adults. Black Soap is a natural cleaner loaded with vitamins A & E, iron.  I added Shea Butter, Coconut Oil, and Colloidal Oatmeal for a softer yet powerful cleanser for the face. It will not dry you out or leave you with a soapy film feeling on your face.

Why is it in a twist up container?
Since Black Soap is soft it will dissolve easily in water and with this container, as long as the top is put back on, it will last longer than regular soap.

Ingredients: Raw African Black Soap, Shea Butter, Coconut Oil, and Colloidal Oatmeal.
Available in Unscented, Patchouli, Lavender, Sandalwood, Tea Tree, and Peppermint

Directions: Wet your skin, wet the soap, the next part is a matter of preference. Apply soap onto a wash cloth, directly onto your skin, into your hand, or use a loofa or other bath tool that you like.

Check out this article - Black Soap No Lye http://kaufmann-mercantile.com/african-black-soap/ or this one on my blog What is Black Soap and How is it made? http://wp.me/p2tHVt-8k

2 oz
Made in the USA

Genuine Organic African Black soap, Ghana Africa, and is a Fair Trade Federation product.

African Raw Black Soap is one of the most beneficial yet unheard of soaps you will ever find. It is a natural source of vitamins A & E, iron and an all-natural cleanser.

It helps relieve rashes, scalp irritations, oily skin, dry skin, acne prone skin, blemishes, eczema, dermatitis, and psoriasis.  It is not oily, and can be used for hands, face, body and hair.

African Raw Black Soap gives your face a deep cleansing leaving it fresh, and healthier. African Raw Black Soap works well for all skin types from oily to dry. It can be used by any ethnicity and for men or women and used on every age, from newborn babies to the elderly. It has a delicate texture and a natural, earthy smell.

Remarle ® adds Shea Butter and Coconut Oil for moisture.