Hyaluronic Acid Ultra Hydrating FACE SHEET MASK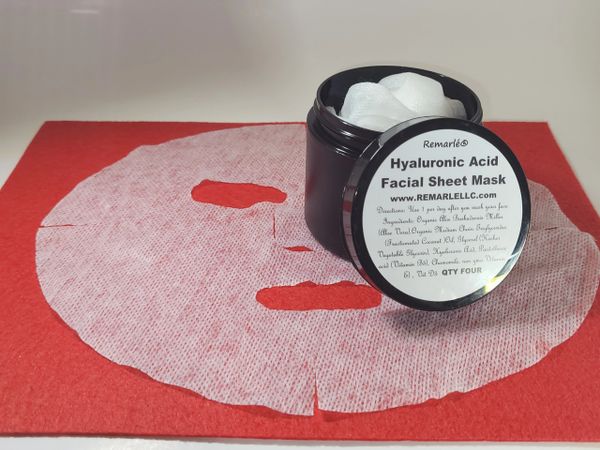 What is it?
This ultra hydrating face sheet mask heals, moisturizes, and nourishes dry, dehydrated or acne ridden skin.It is Made in the USA with just botanical ingredients.
It is free from harmful ingredients such as artificial fragrance or color, denatured alcohol, triethanolamine, sulfate-based surfactants, triclosan, mineral oil, propylene glycol, and DEA, which causes skin irritation as well as Parabens, Sulfates, Phthalates PARABEN-FREE, VEGAN, CRUELTY-FREE, HYPOALLERGENIC
Ingredients: Organic Aloe Barbadensis Miller (Aloe Vera),Organic Medium Chain Triglycerides (Fractionated Coconut )Oil, Glycerol (Kosher Vegetable Glycerin), Hyaluronic Acid, Pantothenic acid (Vitamin B5), Matricaria chamomilla L (Chamomile), d-alpha-tocopherol (non gmo Vitamin E) , Cholecalciferol (Vitamin D3).
Directions: Use 1 per day after you wash your face.Leave on for at least 5 minutes

QTY: FOUR sheets per jar

No animal testing!
Which skin type is it good for? ✔ Normal ✔ Oily✔ Combination✔ Dry✔ Sensitive

Solutions for: - Dryness – Redness - Fine lines and wrinkles

Science behind the formula:
Kosher USP Vegetable Glycerin is a humectant; a substance that attracts moisture to the skin leaving your skin hydrated.
Vitamin B5 (pantothenic acid) Hydrator and Wound Healing
Vitamin B5 has natural broad abilities to moisturize, soothe, heal and regenerate the skin. It stabilizes the skin barrier function, reducing the amount of water lost through the skin. By applying a B5 formulation to the skin, you will not only increase its hydration but improve its softness and elasticity, and is ideal for the treatment of redness, dry, scaly, itchy, or rough skin.
Additionally, a 2002 "Journal of Dermatological Treatment" study noted that Vitamin B5 enhanced the repair of the skin barrier while reducing inflammation. It's  effectiveness in hydrating, soothing, healing and protecting skin makes it an effective ingredient for: acne, bed sores, minor cuts, diaper rash, contact dermatitis (produced when the skin comes in contact with irritants or allergens), eczema, insect bites, scrapes and sunburn.
Preliminary research suggests that vitamin B5 has moisturizing effects on the skin and may speed wound healing, especially following surgery.
Hyaluronic Acid (Hyaluronic Acid, Sodium Hyaluronate, HA) is naturally found in the body.  It  gives skin a youthful glow.  In skin care, you can find hyaluronic acid in creams, serums, and injectables  such as Restylane.
1.                  Hydration - Able to hold up to 1000 times its molecular weight in water, hyaluronic acid penetrates the skin and binds skin cells to water, infusing all layers of the skin with valuable, rejuvenating moisture.  
2.               Humectant - After infusing the epidermis with valuable moisture, HA continues to draw moisture in from the surrounding environment to provide lasting hydration benefits.
3.               Lipid barrier enhancement - HA fortifies the skin's natural barriers to lock moisture in for an even more dramatic hydrating effect.
4.               Increased resilience - By enhancing the skin's natural barriers, the skin is better able to defend itself against environmental age-factors and pollutants.
5.               Tighter skin tone - As it fills the skin with moisture, HA tightens the overall complexion and firms facial contours for a more youthful appearance.
6.               Smoother texture - Much in the same way it tightens the skin, HA also smoothes the texture of the skin for a silky smooth finish you can see and feel.
7.                Less visible fine lines and wrinkles - HA reduces the visibility of fine lines and wrinkles by stimulating increased skin cell production which leads to smoother, plumper skin cells.
8.               Stimulates skin cell regeneration - HA promotes skin cell regeneration which leads to healthier cells and a more vibrant complexion.
9.               Pigmentation - As a result of increased cell turnover, HA also helps reduce and prevent age spots and pigmentation issues.
                  Clarity - By promoting proper moisture balance in the skin, HA prevents the over-production of oil that clogs pores to cause breakouts.  
Aloe Vera is 99 percent water and is rich in vitamins C and E and beta carotene (a pre-cursor to vitamin A).
Its anti-inflammatory and antimicrobial properties are enhanced when massaged into the skin because its antibacterial, antiseptic and anti-inflammatory properties will protect the skin from bacteria and other pathogens which lead to infection and inflammation. In addition, Aloe Vera contains substances known as glycoproteins and polysaccharides. Glycoproteins speed the healing process by stopping pain and inflammation while polysaccharides stimulate skin growth and repair.
Coconut Oil is a naturally occurring antibacterial, antifungal, and moisturizer which allows for a healthier complexion. The antibacterial agent lauric acid contained in coconut oil protects the skin from potential pathogens and can reduce the risk of bacterial infections worsening acne.
As a moisturizer, coconut oil absorbs quickly, which leaves silky smooth skin.
Chamomile has antiseptic and anti-inflammatory abilities that help to decongest clogged pores, making chamomile one of the best herbal extracts for acne.  Chamomile is also rich in flavonoids and antioxidants effective in protecting the skin against free radicals that cause aging
Calendula
When looking for an herbal remedy to treat skin, acne, dermatitis, or wounds think flower power -- or, more specifically, calendula. Its flowers, and occasionally its leaves, can be used to treat a variety of afflictions in different ways.
Calendula has a long history of use as a wound-healing and skin-soothing botanical. This lovely marigoldlike flower (although called pot marigold, it is not a true marigold) is considered a vulnerary agent, a substance that promotes healing. Calendula also has anti-inflammatory and weak antimicrobial activity. It is most often used topically for acne, dermatitis, lacerations, abrasions, and skin infections; less commonly, it is used internally to heal inflamed and infected mucous membranes. Calendula has been found to have strong anti-inflammatory properties via powerful flavonoids. These plant-based antioxidants protect cells from free radical damage and pro-inflammatory compounds like C-reactive protein and cytokines.
Anti-inflammatory linoleic acid is also found in high concentrations in calendula. Its powerful anti-inflammatory properties make it a potent remedy for all kinds of inflammatory such as acne and dermatitis.
d-alpha-tocopherol  (non gmo Vitamin E) is an antioxidant that protects and repairs your skin.
Cholecalciferol (Vitamin D3)  helps in skin cell growth, repair, as well as prevents skin aging.