Natural Household Cleaner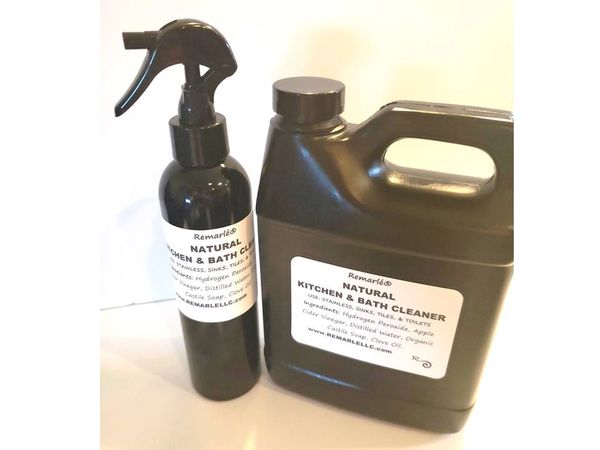 What is it?
A natural Chemical free kitchen & bath cleaner that works great on stainless, sinks, tiles, & toilets.
It will leave the surfaces in your house looking great without using any harsh chemicals and has a refreshing Eucalyptus Aroma.
DIRECTIONS:
Spray directly on surfaces in your kitchen and bath, floors, countertops, tub, toilet, and sinks. Wipe with a cloth, sponge or mop.
Do not use vinegar to clean stone countertops or stone floors. Also, while some wood floors LOVE vinegar, others don't, so it's important to test a small inconspicuous spot first before you tackle the whole room.
Avoid eye contact. If eye contact occurs, flush eyes well with water. This product is non-toxic for general health however, common sense precaution is recommended.

Sizes:  32 oz  refill or 8 oz spray bottle
Ingredients: Hydrogen Peroxide, Apple Cider Vinegar, Distilled Water, Organic Castile Soap, Eucalyptus Essential Oil.