Natural Household Cleaner Anti-Bacterial and Anti-Microbial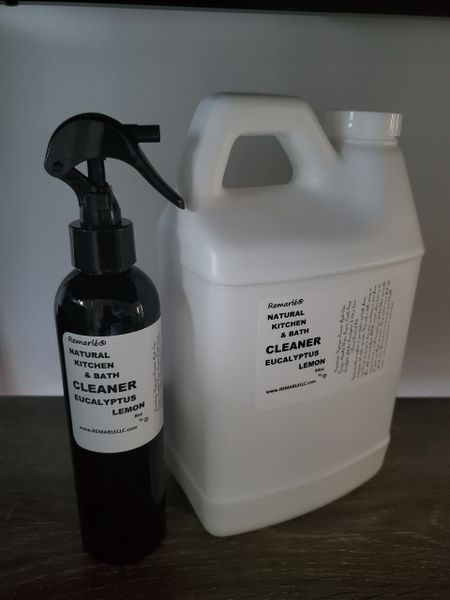 What is it?
A natural Chemical free kitchen & bath cleaner that works great on stainless, sinks, tiles, & toilets.
It will leave the surfaces in your house looking great and sanitized without using any harsh chemicals and has a refreshing and uplifting Eucalyptus & Lemon smell.

DIRECTIONS:
Spray directly on surfaces in your kitchen and bath, floors, countertops, tub, toilet, and sinks. Wipe with a cloth, sponge or mop.
Do not use vinegar to clean stone countertops or stone floors. Also, while some wood floors LOVE vinegar, others don't, so it's important to test a small inconspicuous spot first before you tackle the whole room.
Avoid eye contact. If eye contact occurs, flush eyes well with water. This product is non-toxic for general health however, common sense precaution is recommended.

Sizes:  8 oz spray bottle or 64 oz refill
Ingredients: Hydrogen Peroxide, Apple Cider Vinegar, Distilled Water, Organic Castile Soap, Eucalyptus globulus (Eucalyptus) & Citrus limon (Lemon) Essential Oils.
Science Behind the Ingredients:
Organic Castile Soap:  Dr. Fauci and the CDC and reminded us that soap and water are the best ways to kill the Coronavirus. I developed this formula to be non-toxic with the ability to be used on most surfaces.
Hydrogen Peroxide:  Hydrogen peroxide (formula H2O2) is a chemical compound that's a combination of hydrogen and water. The clear liquid acts as a mild antiseptic and kills bacteria, mold, and mildew
Apple Cider Vinegar  has potent antimicrobial properties and no harmful ingredients making it an excellent way to clean your home.  Studies have shown that vinegar can disinfect just as well as bleach; but it's safer for your family and the planet.
Eucalyptus and  Lemon:
According to a study published in the International Journal of Food Microbiology, lemon oil may actually be the most powerful anti-microbial agent of all the essential oils.
 
A study completed by the NIH showed that essential oil of the leaves of E. globulus OR EUCALYPTUS has antimicrobial activity against gram negative bacteria (E. coli) as well as gram positive bacteria (S. aureus).  https://www.ncbi.nlm.nih.gov/pmc/articles/PMC3609378/