Natural Plant Based Fruit and Vegetable Cleaner Removes Harmful Residue & Bacteria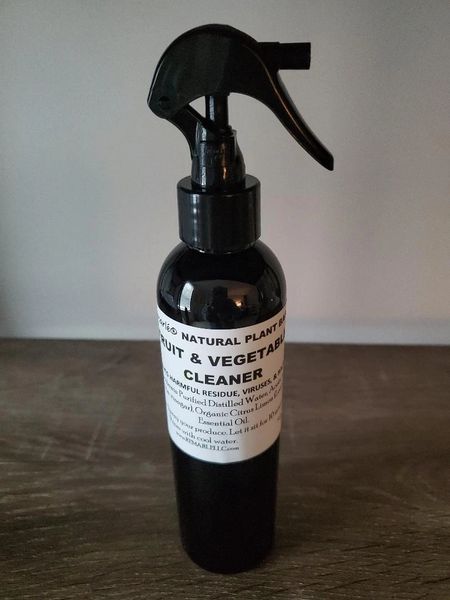 What is it?
This plant based spray will help remove pesticides, along with dirt, bacteria, or wax. Water alone is not enough.
Fresh fruits and vegetables are essential to a healthy diet. Unfortunately, modern growing techniques often leave a residue of water-resistant insecticides and chemical fertilizers on the surface of your food. Waxes are sometimes applied to enhance appearance,  and then there is human handling that may cause germs to reside on your  produce and vegetables. Even organically grown produce may be affected by wind-born contaminants or handling.
No Harsh Chemicals

Non-Toxic & Biodegradable

Recyclable Non-Aerosol Bottle

Made in USA
Why will it work?  The acetic acid in the vinegar, along with the citric acid in the lemon essential oil will help remove pesticides, along with dirt, bacteria, some viruses, and wax. This will not happen with water alone. Acetic acid (white vinegar) Vinegar can inhibit growth of and kill some food-borne pathogenic bacteria per the NIH https://pubmed.ncbi.nlm.nih.gov/9713753/.Citrus Limon (Lemon) and Acetic acid (white vinegar) will reduced the number of pathogens to undetectable levels.According to a study published in the International Journal of Food Microbiology, lemon oil may actually be the most powerful anti-microbial agent of all the essential oils.

Please note:  There is no scientific evidence or studies that show vinegar kills a virus like COVID-19.
Ingredients: Purified Distilled Water, Acetic acid (white vinegar), Organic Citrus Limon (Lemon) Essential Oil
  How to use:
 Spray your produce: Place your fruit or vegetable in a colander in the sink or on a clean dish towel.  Spray them liberally with the with the Remarle Solution, then let it sit for 10 minutes.
Rinse off the mixture thoroughly with cool water, using a vegetable scrub brush on thicker-skinned produce.
NOTE: The FDA recommends cleaning smooth-skinned fruits and vegetables by gently rubbing them with your hands instead of an abrasive scrubber. This prevents you from breaking the skin before the fruit or vegetable is completely clean, which could expose the flesh to contaminants. Tomatoes, apples and grapes are examples of smooth-skinned produce.
Dry: Pat dry with paper towels.