Organic ELDERBERRY & CBD GOODNIGHT SLEEP TEA with Turmeric Chamomile Ginger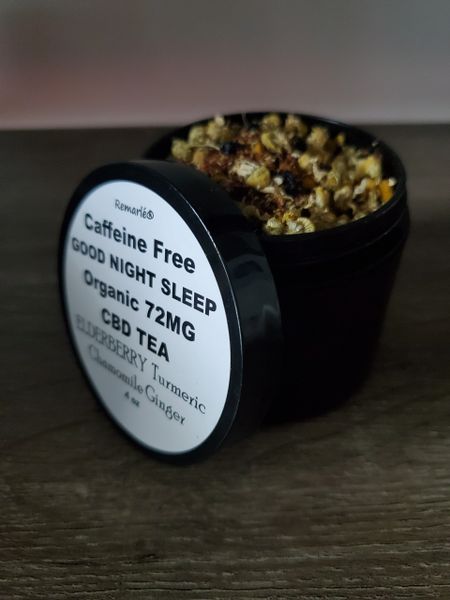 What is it?
This Tea is great for getting for relaxing after a long day and to get a good night sleep.

Our full spectrum CBD oil contains high concentrations of CBD and also other beneficial cannabinoids such as CBC, CBG, CBDA, and CBDV.

Ingredients: Organic Chamomile, Organic Rooibos, Organic Cannabidiol (CBD), Organic Ginger Root,  Organic Turmeric Root, Organic Sweet Fennel Seed, Organic Elderflower, Organic Lemon Peel, Organic Lemon Myrtle, Organic Licorice Root, Manuka Honey, Organic Lemon Verbana Leaf, Elderberries. 
Use: Place 1 teaspoon inside a tea ball infuser, pour hot water into cup , let steep for 3-5 minutes
CONTAINS 3MG CBD per teaspoon

SIZES:  4 oz  ~24 servings  72 mg CBD  or 8 oz  ~ 48servings  144mg CBD CONTAINERS LOOSE TEA

CBD it not a drug. CBD helps restore homeostasis (balance) through its effects on our Endo-Cannabinoid System - which is a recent discovery.
Promising coronavirus research looks at ELDERBERRY
Elderberry (Sambucus) is a flowering plant found in many parts of the world. Elderberry has been used as a treatment for viral infections and there are more than 50 medical studies in the traditional medical literature. Most of the studies show benefit especially for influenza virus.
The berries and flowers of elderberry are packed with antioxidants and vitamins that may boost your immune system. They can help tame inflammation, lessen stress, and help protect your heart, too. Some experts recommend elderberry to help prevent and ease cold and flu symptom. Elderberries are antiviral, meaning it can help lessen cold and flu symptoms and may help to make you suffer for less time. It's a good way to stop pneumonia from turning into bronchitis.
Some laboratory research suggests elderberry may actively prevent the binding of COVID-like viruses to cells, thus limiting the potential for infection. Courtesy of the CDC
One recent study in the science journal Virus Research demonstrated substantial effect against the coronavirus HCoV-NL63, a cousin to the coronavirus that causes COVID-19. This research was done in vitro (in test tubes) and not in animals or humans. Nevertheless, the results were impressive.
This study examined the anti-viral properties of several components found in elderberry. The most active component was a molecule called caffeic acid. This molecule was 10 times more effective at preventing virus binding to the host cell than any of the other elderberry molecules examined.

https://www.dailyherald.com/entlife/20200503/promising-coronavirus-research-looks-at-elderberry
Boosts the Immune System
Elderberries have been shown to boost immunity. They are a rich source of vitamins A and C, which are crucial in helping the body maintain optimal health. Plus, the bioflavonoids in elderberries boost the body's immune system by increasing antioxidant levels and viruses that damage cell walls. A daily dose can assist you in preventing both acute and chronic disease.
Treats Upper Respiratory Infections
Elderberries make colds and other upper respiratory symptoms more tolerable by reducing mucous secretions. Also, elderberries may fight swelling of the respiratory passages, which means less discomfort and trouble breathing and soothe a cough.
Improves Flu Symptoms
Decrease the length and severity of your flu symptoms. Common flu symptoms like fever, chills, sore throat, muscle aches and fatigue may go away faster if you drink Elderberry Tea. According to a study in the Journal of International Medical Research, patients given Elderberry Tea recovered an average of 4 days faster from the flu than those not taking the supplement.
Elderberries have even been shown in the labs to help prevent swine and avian flu strains.     
What is CBD?
Cannabidiol (CBD) is a naturally-occurring constituent of industrial hemp (cannabis sativa) plants. It is the most abundant non-psychoactive cannabinoid found in cannabis and is being scientifically investigated for numerous reasons. Most people have heard of a cannabinoid called THC, which is the ingredient in cannabis that gets users high. Unlike THC, CBD (cannabidiol) is a non-psychoactive cannabinoid and does not cause a high.
It is s legal in all 50 states.  CBD  it not a drug. 
CBD helps restore homeostasis (balance) through its effects on our Endocannabinoid System (ECS). 
This ORGANIC Full Spectrum CBD Oil comes from NuLeaf Naturals in Colorado USA. This product is concentrated to approximately 60mg cannabinoids per milliliter of oil (could be up to 70mg).
- All natural, raw, with no additives or preservatives
-Made from non-GMO hemp plants grown on select farms in Colorado, USA
-100% Organic; NO herbicides, pesticides, or chemical fertilizers used
-Legal in all 50 states and in over 40 countries
-CO2 Green Extraction
How do you know how much CBD is in your products?
NuLeaf CBD oil is lab-tested as soon as it is extracted and then again by a third party lab (Steep Hill) in Berkeley, California, to ensure an accurate amount of CBD. In addition, we test for over 200 pesticides, herbicides, mold, fungi, heavy metals, and mycotoxins. We use cutting-edge testing and world-class equipment to ensure that our products are safe and healthy.
Lab Results:
Is your CBD a whole plant extract, synthetic, or an isolate?
We would never sacrifice quality by providing a synthetic CBD or CBD isolate blend. We use a whole plant extract that is rich in cannabinoids, terpenes, and other beneficial oils. The Hadassah Medical School at the Hebrew University of Jerusalem sought to compare the effectiveness of a completely purified CBD extract versus a full-spectrum extract of cannabis flowers containing large quantities of CBD. The conclusion of the study was that the whole plant extract, which contained a large percentage of CBD but also contained traces of the other cannabinoids, proved far more effective than CBD-only solutions in alleviating inflammation and pain sensation.
Terpenes are the essential oils found in the trichomes of the cannabis plant, which give all plants, flowers and herbs their diverse aromas and have shown to have healing benefits of their own.
 What other cannabinoids are in your CBD oil?
Our full-spectrum CBD oil contains high concentrations of CBD and also other beneficial cannabinoids such as CBC, CBG, CBDA, and CBDV. These beneficial cannabinoids are not psychoactive and are being studied scientifically for a wide variety of health benefits. Cannabinoids work synergistically together with what is known as the entourage effect.
What other ingredients are in your CBD oil?
Our CBD oil has only one ingredient, hemp! Our extracts contain 100% organic cold pressed hemp oil and our proprietary full spectrum CBD concentrate. There are no other additives, preservatives, emulsifiers, or flavorings.
Where do you source your hemp from?
Our CBD oil is extracted from organic hemp plants cultivated on licensed farms in Colorado, USA – all nourished with pristine Rocky Mountain water and lots of sunshine. It's grown the way nature intended and harvested at peak perfection.
 Why is NuLeaf Naturals not USDA certified?
The USDA has made the statement that they will not certify any hemp products grown in the United States at this time. We partnered with an industry-leading third-party lab, Steep Hill, to ensure that our CBD oil is 100% organic. Lab results above.
How do you extract the CBD and other cannabinoids from the raw plant material? Green Extraction Methods
We use green extraction methods that utilize CO2, which leaves behind no toxins, heavy metals, or chemicals to degrade the product in any way. CO2 is safe to use in food products and commonly found in carbonated beverages, and our bodies even produce CO2 when we breathe!
 What type of CO2 extraction do you use?
We use a combination of both Subcritical and Supercritical extractions. This allows us to perform a "fractional extraction" by first extracting at lower temperatures and pressures to remove the lighter, temperature-sensitive volatile oils, and then subsequently extracting the same material at a higher pressure and temperature to remove the remaining oils. This approach is the best because it allows us to extract a complete range of cannabinoids, terpenes, essential oils, and other beneficial phytochemicals that yield a more potent blend.