Organic Full Spectrum CBD Elderberry Flu Fighting Immune Boosting Edible Gummies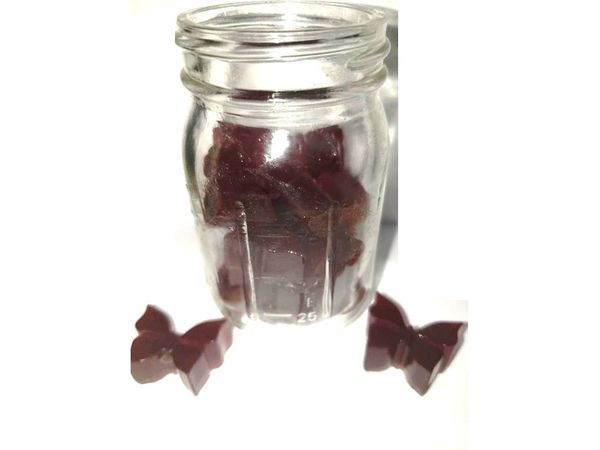 What is it?
For those who prefer CBD edibles, the Remarle Gummy Butterflies are a perfect option. These all-natural CBD gummies are hand crafted with organic ingredients and are made with Organic Full Spectrum CO2 extracted and third party verified CBD.  Each gummy contains 5mg CBD, organic elderberry syrup, lemon juice, and NO ADDED SUGAR.
•  13 gummy butterflies
•  65 mg CBD per bottle (5mg CBD per gummy)
Ingredients: Organic Elderberry Syrup, Natural Gelatin, Lemon Juice, Organic CO2 extracted Full Spectrum 3rd party verified CBD oil AND NO ADDED SUGAR.

Why Elderberry Syrup?
Boosts the Immune System
Help your body fight disease. Elderberries are a rich source of vitamins A and C, which are crucial in helping the body maintain optimal health. Plus, the bioflavonoids in elderberry syrup boost the body's immune system by increasing antioxidant levels and viruses that damage cell walls. A daily dose can assist you in preventing both acute and chronic disease.
Treats Upper Respiratory Infections
Fight your cold symptoms. Elderberry syrup makes colds and other upper respiratory symptoms more tolerable by reducing mucous secretions. Also, elderberries may fight swelling of the respiratory passages, which means less discomfort and trouble breathing and soothe a cough.
Improves Flu Symptoms
Decrease the length and severity of your flu symptoms. Common flu symptoms like fever, chills, sore throat, muscle aches and fatigue may go away faster if you take elderberry syrup as recommended on the bottle.
According to a study in the Journal of International Medical Research, patients given elderberry syrup recovered an average of 4 days faster from the flu than those not taking the supplement. Elderberries have even been shown in the labs to help prevent swine and avian flu strains.

Why Gelatin?
Gelatin is a mixture of peptides and proteins that has been shown in clinical studies to decrease joint pain. It can  and increase the density of collagen fibrils and fibroblasts thereby stimulating collagen production and playing a critical role in wound healing. In addition it contains 8 out of 9 essential amino acids, including glycine and arginine—two amino-acid precursors necessary for the biosynthesis of creatine.  Creatine has been proven to be an excellent source of energy for your muscles. It enhances protein synthesis (the process in which cells build proteins), energizes the metabolism, and increases muscle cell volume.
Keep Refrigerated for freshness