Organic Rash, Radiation, & Sun Burn Creme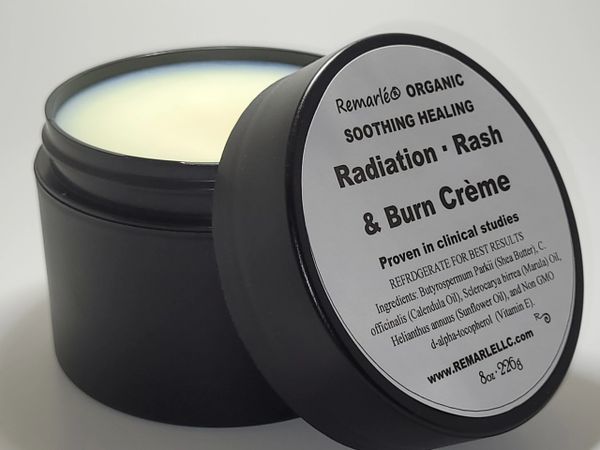 What is it?
This soothing creme made with Shea Butter, Calendula, Marula Oil, and Vitamin E will calm and soothe burns caused by Radiation or the Sun.
Proven in Clinical Studies.

Loaded with Nutrients known to help and heal rashes and burned skin.

Ingredients: Butyrospermum Parkii (Shea Butter), C. officinalis (Calendula Oil), Sclerocarya birrea (Marula) Oil, Helianthus annuus (Sunflower Oil), and Non GMO d-alpha-tocopherol (Vitamin E).
 Suggested to refrigerate for coolness before applying; however product does not need to be refrigerated.

8 oz Jar

Directions: Apply liberally to skin after radiation exposure or if you have a sunburn
Why it works?

A radiation burn is damage to the skin or other biological tissue caused by exposure to radiation. The radiation types of greatest concern are thermal radiation, radio frequency energy, ultraviolet light and ionizing radiation. The most common type of radiation burn is a sunburn caused by UV radiation.
The results of recent studies of the effects of calendula skin cream on patients with radiation dermatitis have been reported in an NIH Study https://www.ncbi.nlm.nih.gov/pmc/articles/PMC2533690/
The use of calendula creams to soothe irritated and inflamed skin following radiation is well established. In 2017 a study conducted by researchers from the prestigious Cleveland Clinic Foundation found plenty of support for the use of calendula cream in treating patients in its oncology department – so much support, in fact, that the department changed its practice guidelines to recommend the use of calendula skin cream in patients undergoing radiation therapy. In addition to finding the cream effective in treating radiation dermatitis, the researchers also found patients were much more willing to use the creams compared to alternatives like petroleum-based gels, for which the study says there is no evidence of efficacy in treating radiation dermatitis symptoms. Patients reported the calendula creams to be non-greasy and easy to apply, earning an 85 percent satisfaction rate among patients at the completion of the study.
In another study it was concluded that topical application of calendula may reduce painful swelling and irritation associated with radiation therapy as reported by  Memorial Sloan Kettering Cancer Center.

https://www.mskcc.org/cancer-care/integrative-medicine/herbs/calendula#msk_consumer
Bako E, Deli J, Toth G.
HPLC study on the carotenoid composition of Calendula products
.
J Biochem Biophys Methods
. Oct-Nov 2002;53(1-3):241-250.
Chandran PK, Kuttan R. Effect of Calendula officinalis Flower Extract on Acute Phase Proteins, Antioxidant Defense Mechanism and Granuloma Formation During Thermal Burns. J Clin Biochem Nutr. Sep 2008;43(2):58-64
Szakiel A, Ruszkowski D, Grudniak A, et al. Antibacterial and Antiparasitic Activity of Oleanolic Acid and its Glycosides isolated from Marigold (Calendula officinalis).Planta Med. Nov 2008;74(14):1709-1715.
Additional studies are underway, however hospitals are starting to use it in treatments.
Researchers from Italy evaluated the use of calendula skin cream in patients with diabetic limb ulcers that exhibited signs of developing infection, including sores that appeared red and swollen and exuded pus. The calendula cream was applied twice daily and massaged into the affected areas. At the completion of the study, the researchers found the use of calendula cream was associated with significant healing action in all patients, due at least in part, the researchers posit, to the plant's natural ability to kill germs that cause infection.
More information regarding the Science Behind the Formula:
Calendula:
When looking for an herbal remedy to treat skin or wounds, think flower power -- or, more specifically, calendula. Its flowers, and occasionally its leaves, can be used to treat a variety of afflictions in different ways.
Calendula has a long history of use as a wound-healing and skin-soothing botanical. This lovely marigoldlike flower (although called pot marigold, it is not a true marigold) is considered a vulnerary agent, a substance that promotes healing. Calendula also has anti-inflammatory and antimicrobial activity. It is most often used topically for lacerations, abrasions, and skin infection, burns.
Calendula For Radiation Burns
Calendula has a long history of use in treating an array of skin conditions, including inflammation and irritation – centuries of use, in fact. And although calendula has remained a staple for many naturopathic medical practitioners and "mainstream" physicians in Europe and Asia, in North America, its use and effectiveness have only become appreciated more recently. At least part of that new-found appreciation has arisen as a result of recent scientific studies that have explored – and demonstrated – the benefits of calendula cream in skin care after cancer treatment.
Sunflower oil
is a monounsaturated (MUFA)/polyunsaturated (PUFA) mixture of mostly oleic acid (omega-9)-linoleic acid (omega-6) group of oils and works as an emollient to deeply moisture the skin.
Vitamin E is a natural treatment for promoting healing while helping to minimize or prevent scarring by supporting healthy skin regeneration. Not only does vitamin E oil moisturize skin, it also helps protect collagen, which is the protein in the skin that's chiefly responsible for holding the skin's structure together. The oil also supports the healing of damaged skin cells, and it infuses the skin with antioxidants that combat the free radicals that cause redness and inflammation at the burn site.
Shea Butter has anti-inflammatory, emollient, and humectant properties which contributes to the healing and comfort of the skin. https://www.ncbi.nlm.nih.gov/pubmed/20484832
Marula Oil

Fair Trade Marula Oil – Certified Organic (Sclerocarya birrea)

WILD GROWN, ORGANIC MARULA OIL, AFRICA'S BEAUTY SECRET
Marula Oil is an all-natural, cold pressed, highly nutritious, light textured oil. Hand harvested by women in village collectives from the exotic fruit seed kernels of bio dynamic and drought resistant Marula trees, indigenous to Southern Africa and Madagascar. The geographic position on the west edge of Southern Africa gives rise to certain climatic characteristics. The low rainfall and endless hours of bright sunshine create the perfect environment – unlike any other in the world – to produce exceptional growing conditions for the Marula trees to bear their annual fruit.
The oil is made from kernels from inside the pit of the Marula fruit which is related to the mango. The process of cracking the Marula pit to separate the kernel is so laborious that it takes one woman half a day to produce the kernels for one 2 oz bottle of oil. The kernels are then cold pressed using a hand-turned 30 ton hydraulic press.
The Marula Oil is produced to rigorous quality standards completely pure and natural with no artificial ingredients and harvested sustainably. No chemicals are used in the process and no animal testing is involved.
This delicious fruit contains 4 times as much Vitamin C as an orange. Marula leaves and bark have wonderful properties but the skin care properties of natural Marula Oil are perhaps the best of all.  This healing oil is widely used for its medicinal benefits by Southern African women and men and has been part of numerous beauty rituals for centuries to protect the skin and hair from the harsh and dry weather conditions.
This oil is edible, water soluble, High in Vitamin C, Rich in Oleic Acid (essential to healthy skin), golden in color.  It is used to moisturize, heal, prevent scarring, promote healing from burns, and penetrate and preserve skin and hair.