Patchouli African Black Soap Black Soap - Bug Repellent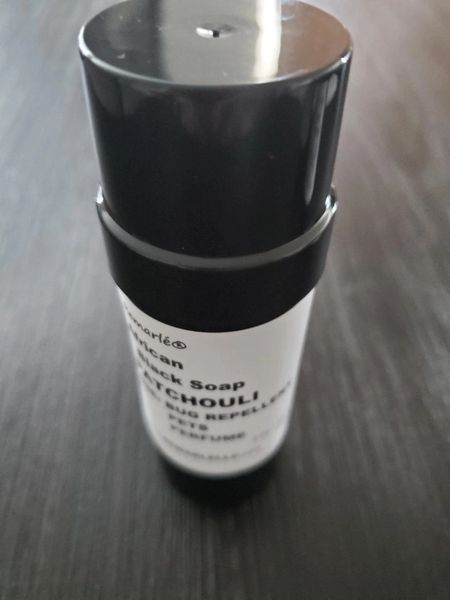 What is it?
African Raw Black Soap is one of the most beneficial yet unheard of soaps you will ever find. It is a natural source of vitamins A & E, iron and an all-natural cleanser.  African Raw Black Soap works well for all skin types from oily to dry. It can be used by any ethnicity and for men or women and used on every age, from newborn babies to the elderly. It has a delicate texture and a natural, earthy smell.

Genuine Organic African Black soap, Ghana Africa, and is a Fair Trade Federation product.


Patchouli essential oil has a strong, sweet scent that falls into the musky-earthy category and can act as a strong and effective insect repellent or perfume. It has been used since ancient times to keep mosquitoes, bed bugs, ants, flies, moths, and fleas away and provides a natural way to eradicate pests.
Wash your pets in this natural soap to ward off bugs.

Remarle added  Shea Butter, Oatmeal, and Coconut Oil to the soap for a softer, skin softening experience.

Since Black Soap is soft it should stay in the container with the lid on to preserve the product, otherwise you may see it disappear down the drain.

Ingredients: Proprietary blend of African Black Soap, Butyrospermum Parkii (Shea Butter), Cocos Nucifera (Coconut Oil), Colloidal Oatmeal, and Pogostemon cablin (Patchouli) Essential Oil.
Directions: Wet the skin, wet the soap, the next part is a matter of preference. Apply soap onto a wash cloth, directly onto your skin, into your hand, or use a loofa or other bath tool that you like.
2 oz Twist up Tube (color of tube may vary)
Made in the USA