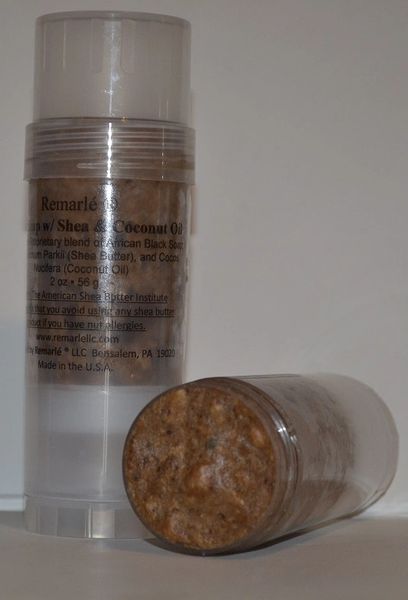 Patchouli has been used for centuries in perfumes and, more recently, in incense, insect repellents.
Patchouli (Pogostemon cablin (Blanco) Benth; also patchouly or pachouli) is a species of plant from the genus Pogostemon. It is a bushy herb of the mint family, with erect stems, reaching two or three feet (about 0.75 metre) in height and bearing small, pale pink-white flowers. The plant is native to tropical regions of Asia, and is now extensively cultivated in China, Indonesia, India, Malaysia, Mauritius, Taiwan, the Philippines, Thailand, and Vietnam.
Raw African Black Soap with Shea Butter, Oatmeal, and Coconut Oil This soap is amazing for Acne, Psoriasis, and Eczema.

Since Black Soap is soft it should stay in the container given with the product, otherwise you may see it disappear down the drain.

Ingredients: Raw African Black Soap with Shea Butter, Coconut Oil, Colloidal Oatmeal, and Patchouli Essential Oil.
Directions: Wet your skin, wet the soap, the next part is a matter of preference. Apply soap onto a wash cloth, directly onto your skin, into your hand, or use a loofa or other bath tool that you like.
Check out this article - Black Soap No Lye http://kaufmann-mercantile.com/african-black-soap/ or this one on my blog What is Black Soap and How is it made? http://wp.me/p2tHVt-8k
2 oz
Made in the USA
Genuine Organic African Black soap, Ghana Africa, and is a Fair Trade Federation product.
African Raw Black Soap is one of the most beneficial yet unheard of soaps you will ever find. It is a natural source of vitamins A & E, iron and an all-natural cleanser.
It helps relieve rashes, scalp irritations, oily skin, dry skin, acne prone skin, blemishes, eczema, dermatitis, and psoriasis.  It is not oily, and can be used for hands, face, body and hair.
African Raw Black Soap gives your face a deep cleansing leaving it fresh, and healthier. African Raw Black Soap works well for all skin types from oily to dry. It can be used by any ethnicity and for men or women and used on every age, from newborn babies to the elderly. It has a delicate texture and a natural, earthy smell.
Remarle ® adds Shea Butter and Coconut Oil for moisture.