Peppermint Hand Creme - Part of the REVIVE Collection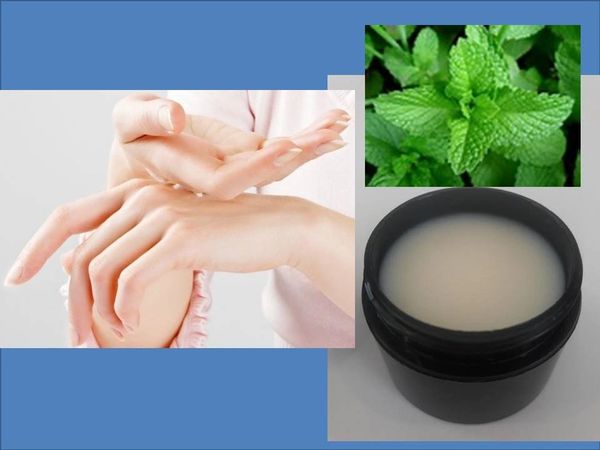 What is it?

A moisturizing and nourishing hand creme rich in Vitamins A and E, Omega 6 and 9 fatty acids essential for healthy skin.  This crème will provide daily protection for your hands and cuticles as well as the energizing smell of peppermint to wake up your senses, relieve your headache or migraine, and help with stuffy noses.
If you have a headache or migraines, just place some at the base of your neck, temples and a little under or inside your nose.

This skin smoothing natural hand crème is a compliment to the  Remarlé ® Hand Scrub and the Remarlé® Cuticle Oil or by itself. It provides the right amount of moisture and nutrition for your hands and contains Shea Butter which works to penetrate the epidermis and provide a protective layer which traps water and keep the skin hydrated and protected from allergens.


Perfect for your purse, travel, or briefcase.
Why do I need to moisturize my skin?

The skin needs moisture to repair and renew itself. While the skin produces it own oil through the sebaceous glands, sometimes extra moisture is needed. As we get older our skin does not produce enough oil and becomes very dry, add in menopause and all of a sudden the wrinkles, lines and visible signs are aging are prevalent. The Skin needs to be hydrated either internally or topically to be soft, supple and smooth.
Moisturizers have been found to help restore the skin barrier providing a protective layer on surface of the skin to trap water and prevent the penetration of irritants and allergens. An emollient cream is superior in trapping the moisture within the skin. There are five randomized controlled trials showing benefit to emollient use in atopic eczema.


Ingredients: Proprietary blend of Butyrospermum Parkii (Shea Butter), Apricot Oil (Prunus armeniaca), and d-alpha-tocopherol (Vitamin E), Peppermint Essential Oil.

Directions: Pump a small amount on each hand, massage into hands and cuticles. At the very least apply at least once in the morning and once at night.If you have a headache or migraines, just place some at the base of your neck, temples and a little under or inside your nose.
Recommended for use with the  Remarlé ® Hand Scrub and the Remarlé® Cuticle Oil
Directions: First Scrub your hands to reveal the new skin, rinse, add a few drops of oil to both hands and cuticles, massage in,  add a dap of crème to seal in the oil and keep your hands soft all day.
1.75 oz jar
Science Behind the Formula:
Shea butter is extracted from the nut of the shea tree (Vitellaria paradoxa) in West Africa. High levels of natural anti-oxidants (A and E) and essential fatty acids (from stearic acid and oleic acid) found within the nut's buttery contents have proven extremely effective for moisturizing and repairing damaged skin. Vitamin A maintains the firmness and elasticity of the skin while Vitamin E is mainly moisturizing. In addition, Shea butter contains cinnamic acid that provides sun protection and heals skin inflammation.
Vitamin E is an antioxidant that protects and repairs your skin.
Apricot Oil
Apricot Oil is rich in is rich in omega – 9 ( oleic acid ) fatty acid, omega – 6 ( linoleic acid ), and Vitamin E which is why the oil is a powerful emollient and is useful to firm, tone your skin, and slow down the aging process. The oil's fine texture allows more rapid skin penetration, which promotes more prompt healing and nourishment of sore or chapped skin without residue. Shirley Price, coauthor of "Aromatherapy for Health Professionals," notes that apricot oil is also beneficial in relieving the itch and irritation of eczema-ridden skin as well as helps prevent and minimize the appearance of wrinkles.
Health Benefits of Peppermint:
Stress: Like most other essential oils, peppermint is able to provide relief from stress, depression and mental exhaustion due to its refreshing nature. It is also effective against anxiety and restlessness. Furthermore, it stimulates mental activity, clears the mind, and increases focus on cognitive tasks. It helps with migraines and headaches
Pain relief: Peppermint oil can be used externally in order to provide relief from pain. It is believed that the presence of calcium antagonism in peppermint oil helps remove pain from affected areas. It is also cooling in nature and is subsequently used to help reduce fever. It is frequently called a "refrigerant", meaning that it can provide an intensely cold sensation to any affected area. In case of injury, wound, or healing process, topically apply peppermint oil to the area to reduce swelling, relieve pain, and eliminate the chances of uncomfortable inflammation.
Immune system: Peppermint oil can increase a person's immunity to various diseases and is commonly employed by those people with weak immune systems or who seem to frequently suffer from illness. Peppermint oil is also known to have powerful antiviral, antibacterial, and antifungal effects, which is why it is used in so many alternative treatments.
Blood circulation: The stimulating effects of peppermint oil have been shown to increase blood circulation. Studies have shown that as soon as the essential oil vapor touches the end of the olfactory nerve endings, there is an almost instant increase in pulse rate and blood circulation. The stimulating effect of increased blood circulation helps to oxygenate the body's organs and increase metabolism, as well as oxygenate the brain. This leads to higher cognitive function and protection against neurally degenerative diseases like Alzheimer's and dementia. Furthermore, increased blood circulation can prevent diabetic patients from complications they are already at risk of due to their glucose level imbalances.
Skin care: Peppermint oil contains menthol, which is good for the skin because it creates a cooling sensation. Furthermore, it nourishes dull skin and improves the texture of oily or greasy skin.

It is also believed that peppermint oil is useful in the treatment of cancer and tuberculosis, although more research needs to be done in these areas. Furthermore, peppermint oil has been a part of some preliminary studies as an antiviral agent that can reduce the chances of herpes infections and recurring outbreaks.