R26 Natural Skin Tag Remover Kit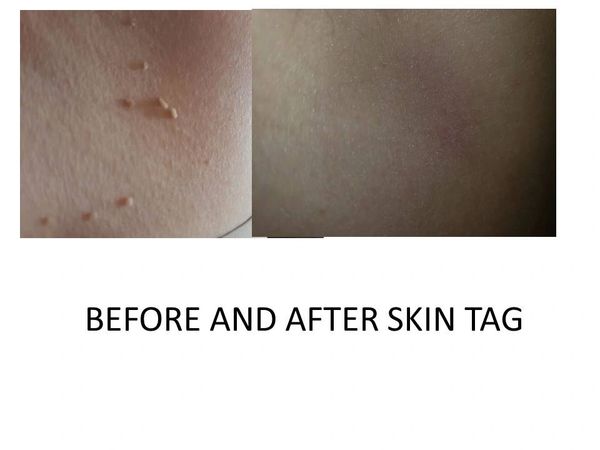 What is it?
This is a natural skin tag remover kit that works well to remove those unwanted bothersome benign annoying growths.
The kit includes One .40 oz Roller of the Patent Pending Natural Ingredients called R26, 4 hydrocolloid bandages, 4 cleansing wipes.
How to use: Wipe the area with the cleansing wipe six times withone wipe, then roll the Remarle Skin Tag Remover over the area six times. Repeat only the rolling of the skin tag remover twice a day for six days. Then on the seventh day wipe the area with one cleansing wipe six times, roll the skin tag remover over the area six times, then let dry, and now place a hydrocolloid bandage over the skin tag. Keep the bandage in place for three days. Remove the bandage the 3rd day and wipe six times with a cleansing wipe and then let the cloth sit on the area for 5 minutes. Repeat if necessary. 
NOTE: If at any point the skin tag disintegrates before the six days, then you do not need to complete all steps. Some growths will fall off faster than others.
   Repeat if necessary.
Additional Bandages and Wipes are Available for purchase.

My Story
I have been trying to create a natural way to remove skin tags for 3 years. I carefully researched and formulated this product. The picture above is actually my before and after skin tag issue. Some of the larger skin tags took longer than others; be patient.