Shea Butter Creme - Hand Eczema, Face Moisturizer, Eczema, Rosacea, Eyes, Make Up Remover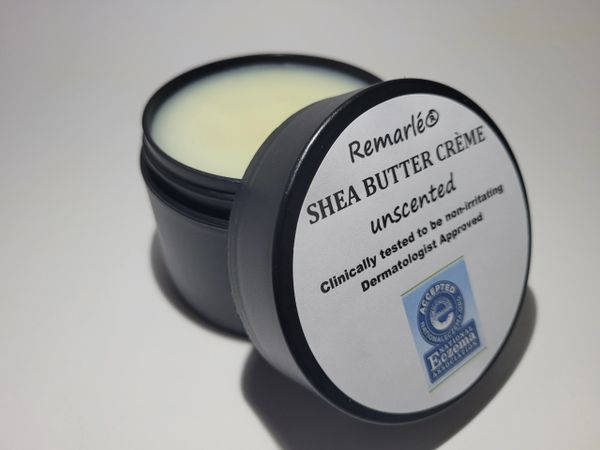 What is it?
This Shea Butter Creme is UNSCENTED and has been awarded the National Eczema Association Seal of Acceptance. 
It has also been clinical tested and is dermatologist approved.
This amazing emollient unscented crème has been Clinically Tested to be non-irritating and allergy free; it is dermatologist approved.  The Unscented version is safe for sensitive skin and is recommended for Use on Eczema and Rosacea.

This moisturizing Shea Butter Creme can be used on the Body, Lips, Hands, Elbows, Feet, Eyes, Face (day and night creme), and as a make up remover. The ingredients are abundant in Vitamins A, C, and E and Omega 6 fatty acids essential for healthy skin.

Sizes: 2 oz, 4 oz, or 8 oz size container  in Unscented or Lemon

Ingredients: Proprietary blend of Butyrospermum Parkii (Shea Butter), Prunus armeniaca (Apricot) Kernel Oil, Carthamus tinctorius (Safflower Oil), Helianthus (Sunflower Oil)
, d-alpha-tocopherol (Non GMO Vitamin E).
100% pure essential oils are used when a scent is chosen.

Directions: Massage a dime size amount into skin anywhere on the body, including the face. Use after the Remarlé ® Severely Dry Sugar Scrub for ultimate results.
Why do I need to moisturize my skin?
The skin needs moisture to repair and renew itself. While the skin produces it own oil through the sebaceous glands, sometimes extra moisture is needed. As we get older our skin does not produce enough oil and becomes very dry, add in menopause and all of a sudden the wrinkles, lines and visible signs are aging are prevalent. The Skin needs to be hydrated either internally or topically to be soft, supple and smooth.
Moisturizers have been found to help restore the skin barrier providing a protective layer on surface of the skin to trap water and prevent the penetration of irritants and allergens. An emollient cream is superior in trapping the moisture within the skin. There are five randomized controlled trials showing benefit to emollient use in atopic eczema.

Hooray for Shea!

Shea butter is extracted from the nut of the shea tree (Vitellaria paradoxa) in West Africa. High levels of natural anti-oxidants (A and E) and essential fatty acids (from stearic acid and oleic acid) found within the nut's buttery contents have proven extremely effective for moisturizing and repairing damaged skin. Shea Butter works because it is able to penetrate the epidermis and provide a protective layer which traps water and keep the skin hydrated and protected from allergens.
Shea butter's healing qualities include:
Relieving Dry skin caused by Eczema, Psoriasis, and Dandruff
Reducing the appearance of stretch marks, scars and fine lines
Shea Butter also has Antimicrobial (used against bacteria and antifungals) and Anti-inflammatory properties
Made in the USA