Dry Skin Sugar Scrub for the Face, Neck (Decollage), Body, and Keratosis Pilaris - Unscented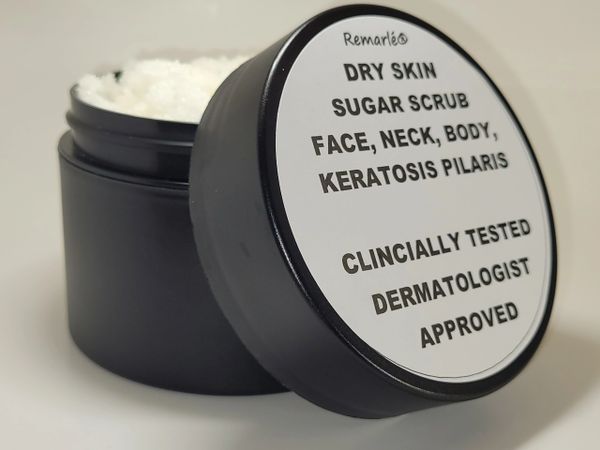 What is it?

This amazing all natural body, feet, and face scrub will help the driest of skin. The recipe  was designed to exfoliate and moisturize at the same time leaving your face and body feeling as smooth as silk during the entire day. Rich in Omega-6 essential fatty acids and Vitamin E essential for healthy skin.
Sugar or glycolic acid is a natural Alpha hydroxy acids (AHA).  Clinical studies have shown that AHA can reverse the effects of photoaging and significantly improving wrinkles, skin hydration, elasticity and tone.
Ingredients: Premium Pure Cane Sugar and proprietary blend of Carthamus tinctorius (Safflower Oil), Helianthus (Sunflower Oil), d-alpha-tocopherol (non GMO Vitamin E).

Directions:Wet skin first, scoop out at least a quarter size amount and massage into skin in a circular motion, then rinse off completely. Depending on the area in which you are using the scrub, you may need to use more. 
Apply Marula Oil, Remarle Shea Butter Face Creme, or Body Butter immediately after you scrub for the ultimate skin softening experience so that the epidermis can absorb the emollient deeper into the skin leaving it softer for longer.
Clinically tested to be non-irritating and allergy free
Dermatologist Approved

Recommended for use on Keratosis Pilaris

8 oz


Why Should you exfloiate?
Plain and simple exfoliation is an important process in maintaining clean and healthy skin; it removes dead skin cells on the surface of your skin (the epidermis) keeping your skin cleaner, smoother and brighter.
Why do I need to moisturize my skin?
The skin needs moisture to repair and renew itself. While the skin produces it own oil through the sebaceous glands, sometimes extra moisture is needed. As we get older our skin does not produce enough oil and becomes very dry and all of a sudden the wrinkles, lines and visible signs are aging are prevalent. The Skin needs to be hydrated either internally or topically to be soft, supple and smooth.

Made in the USA