Mouthwash- NO ALCOHOL Nothing Artificial Safe for KIDS over 1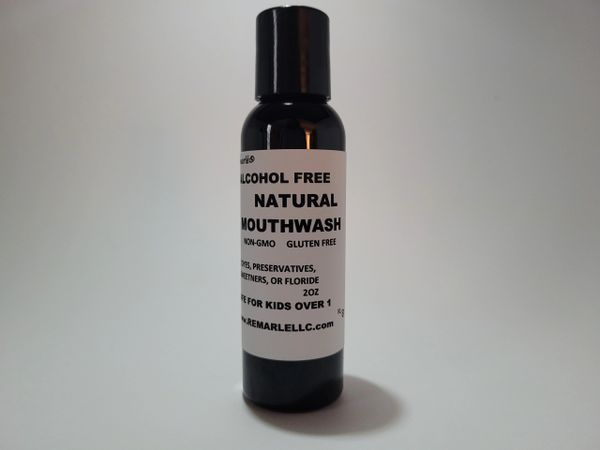 What is it?
Get Whiter Teeth, Fresher Breath and a Healthier Mouth NATURALLY!

Remarlé® combines the best naturally sourced ingredients to give you a MOUTHWASH that safely and effectively clean teeth and may make them whiter. This MOUTHWASH helps maintain a healthy balance by feeding the good bacteria in your mouth, reducing odor associated with bad breath, and killing bad bacteria that could lead to gingivitis, periodontal disease, and tooth decay.  Personally my teeth have never looked better.
I never use alcohol, artificial flavors, sweeteners, colors, or preservatives and is Gluten Free, SLS and fluoride free as well as safe for KIDS over 1 year old.

Ingredients: Organic Fractionated Coconut Oil, Hydrogen Peroxide, Aloe Vera, Syzygium aromaticum (Clove Bud) Oil, Organic Citrus limon (Lemon) Oil, Cinnamomum zeylanicum  (Cinnamon Bark) Oil, Eucalyptus radiata (Eucalyptus) Oil, Organic Rosmarinus officinalis (Rosemary) Oil, Organic Mentha piperita (Peppermint) Oil.
Sizes: 2oz, 4oz, 8oz
or combo 2oz Mouthwash and 1.75 oz Toothpaste

Directions: Shake well, then swish a cap full into your mouth for at least 1 minute. Longer if you are able. Do not Swallow. Okay to gargle.
Why Longer: Coconut Oil Pulling Can Reduce Harmful Bacteria in Your Mouth. Streptococcus mutans is one of the main bacteria in your mouth and a key player in plaque buildup and tooth decay. One study in 60 adults showed that oil pulling with coconut oil for 10 minutes every day significantly reduced the number of S Streptococcus
Science Behind the Ingredients:
Coconut Oil: Coconut Oil is antimicrobial, anti-inflammatory. The lauric acid in coconut oil attacks harmful bacteria in the mouth that can cause bad breath, plaque buildup, tooth decay and gum disease, but leaves healthy probiotic strains behind. It can also help whiten teeth and rebuild weaken enamel to some degree by improving its mineral content.
Hydrogen Peroxide: Peroxide whitens teeth by passing into the tooth and reacting with the molecules that cause stains or discoloration. It can also help reduce inflammation and  kill pain-causing bacteria in the mouth.
Aloe Vera: One study concluded that Aloe Vera may prove to be an effective mouthwash due to its ability to reduce plaque and the gum disease gingivitis. Aloe Vera is also a natural antioxidant and anti-inflammatory agent and has the ability to strengthen collagen which is responsible for keeping the gums tight and strong. In addition, Aloe vera is effective in treating cavities as it inhibits the growth of the bacteria that causes dental caries.
Clove Bud Oil: Clove oil helps fight bad bacteria in your mouth that can cause cavities.  It also contains the active ingredient eugenol, which is a natural anesthetic and anti-inflammatory. It helps numb and reduce pain to ease a toothache and may reduce swelling and irritation in the affected area.
Lemon Oil: Lemon has strong citrus properties that will eliminate your bad breath problem and according to a study published in the International Journal of Food Microbiology, lemon oil may actually be the most powerful anti-microbial agent of all the essential oils killing bacteria outright.

Cinnamon Oil: Cinnamon is antibacterial, antifungal and antiseptic – which makes it an effective cleanser for every oral health care need, such as relief for a sore throat! It also contains one of the greatest antimicrobial properties that protect against bacteria accountable for tooth decay
Eucalyptus Oil:  Eucalyptus Oil contains antibacterial properties that can help prevent gum recession as well as the potential to prevent tooth decay, gingivitis, and bad breath.
Rosemary Oil: Rosemary essential oil is a natural disinfectant that can help remove bad oral bacteria that causes cavities, bad breath, plaque buildup,
Peppermint Oil: Peppermint oil is used to freshen breath and kill bacteria and fungus. Both bacteria and fungus can cause infections in the mouth which can lead to the development of cavities and/or gum disease.