CBD Deep Muscle Pain™ Ultra Moisturizing & Pain Relieving Hand/Body/Foot Scrub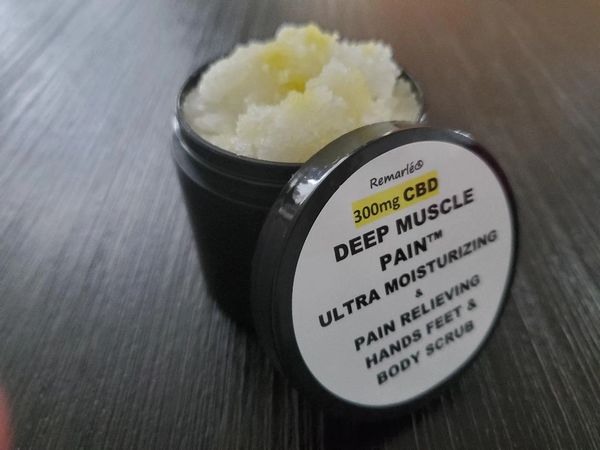 What is it?

The Remarlé® Exclusive CBD Deep Muscle Pain™ Hand and Body Scrub combines the pain relieving oils of Full Spectrum CBD with Eucalyptus and Peppermint Essential Oils.  Soothing and Cooling, this body Polish will minimize swelling and pain with each massage of the product into the skin.

Great for sore hands, feet, and body.  The natural ingredients will exfoliate & moisturize leaving your hands & body feeling as smooth as silk.  Rich in Omega-6 essential fatty acids, Vitamins A, C, E, and K essential for healthy skin.

Ingredients: Premium Pure Cane Sugar, Carthamus tinctorius (Safflower Oil), Butyrospermum Parkii (Shea Butter), Full Spectrum CBD Oil,  Heterotheca indloides (Arnica Flowers) Cold Pressed,  d-alpha-tocopherol (Vitamin E), Remarlé® Exclusive Blend of Eucalyptus and Peppemint Essential Oils.

Sizes:  4 oz 300 mg Jar or 8 oz 600 mg Jar


Science Behind the formula:
Peppermint essential oil is a very effective natural painkiller and muscle relaxant. It is especially helpful in soothing an aching back, sore muscles, and melting away a tension headache. A study showed that peppermint oil, rosemary, lavender, and eucalyptus applied topically
has pain relief
benefits
associated
with Post Operative Pain, Hemiplegic Shoulder Pain, Fibromyalgia, Myofascial Pain Syndrome, and other pain.
NIH Study https://www.ncbi.nlm.nih.gov/pmc/articles/PMC5192342/

3.1.9. Postoperative Pain
Pain is common after almost any surgical procedure. Although analgesic medications are effective in reducing pain and nausea, uncomfortable side effects can prolong the healing process and increase hospitalization time [20]. In a randomized control study to examine pain management after total knee replacement surgery, patients treated with eucalyptus aromatherapy experienced significantly lower pain and blood pressure than the control group [21]. A study that examined lavender aromatherapy in patients recovering from breast biopsy surgery found that the aromatherapy group reported a significantly higher satisfaction with pain management than the control group, even though rates of pain, narcotic use, and discharge time were the same [20].
3.1.10. Hemiplegic Shoulder Pain
As many as 60% of patients who experience complete paralysis of half the body after stroke, a condition known as hemiplegia, complain of shoulder pain. Hemiplegic shoulder pain (HSP) is usually caused by muscle weakness, subluxation, and decreased motor strength. HSP is commonly treated with pharmacological interventions, but the side effects are often unpleasant and dangerous. Nonpharmacological treatments, such as exercise, massage, and biofeedback can reduce pain but are not always effective. A 2007 pilot study examined the benefits of lavender, rosemary, and peppermint oils on relieving HSP. The experimental treatment group received aromatherapy acupressure for 20 minutes twice a day to manage HSP. The pain levels of the treatment group were compared to a control group who received acupressure only without aromatherapy. Although pain was reduced in both groups, the aromatherapy group reported a 30% reduction in pain, compared to 15% reduction in pain for the control group [1].
Eucalyptus has healing powers long recognized by native peoples, including the aboriginal people of Australia.  The essential oil contains anti-inflammatory, antispasmodic, and antiseptic properties, which provide significant relief from muscle and joint pain. It has cooling and refreshing effects, which may reduce stress and alleviate mental exhaustion. https://www.ncbi.nlm.nih.gov/pmc/articles/PMC3703330/
Use circular motions to apply eucalyptus oil to affected areas and on reflex points to relieve muscle and joint discomfort.
Arnica
The flower of arnica is used to make products that help relieve pain and swelling associated with bruises, aches, sprains, and arthritis. Many professional athletes today even use a topical homeopathic preparation of arnica oil as first aid relief for sports- or exercise-related pain or injury.
There have been two studies completed by the NIH that support this claim.  One research study conducted in 2010 resulted in a greater improvement with the use of arnica oil on bruised skin. In another research study completed in 2007, Arnica was demonstrated to reduce muscle soreness among marathon runners. 
http://www.ncbi.nlm.nih.gov/pubmed/20412090
The Arnica Oil is cold pressed by me personally with out any chemical processing.